Hong Kong
Disney Cruise Line Announces More Details on Newest Ship
Disney Cruise Line has been unveiling details for its newest ship, the Disney Wish. From the intricate designs that make this boat feel truly like a castle on the water to an action-packed, first-of-its-kind water attraction spanning 760 feet along the upper deck, this cruise ship is littered with creative new elements that are sure to wow even avid cruise-goers.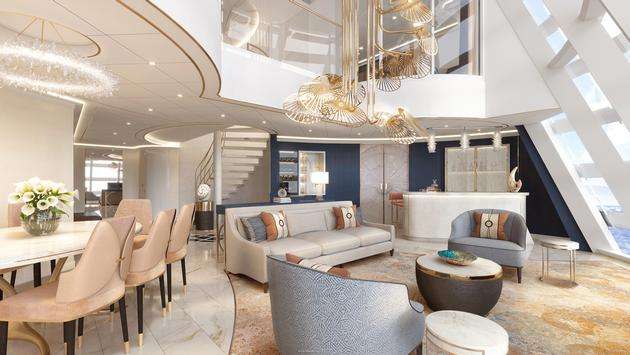 Now Disney Cruise Line is releasing more information about one of its magical two-story suites that's located where no other suite has been placed before – in the forward funnel. The red funnels are iconic aboard the Disney Cruise Line ships, and now visitors will get the opportunity to stay in one of these in the Wish Tower Suite. And of course, the two-story suite will be filled with all the magical details you'd expect.
"Each of our theme parks has a majestic icon that captures our guests' imaginations," said Laura Cabo, portfolio creative executive, Walt Disney Imagineering, in a recent statement. "On a Disney cruise ship, that beacon of magic is our signature red funnels. For the first time ever, guests aboard the Disney Wish will be able to book an incredible two-story suite that's actually located within one of our funnels. With the Wish Tower Suite, we are creating a breathtaking experience that continues our tradition of the most unique and enchanting accommodations at sea."
Guests staying in this suite will be treated to some of the most incredible views and surrounded by an immaculately designed 1,966 square foot penthouse.
The theming for the room is a subtle nod to Disney's "Moana," with a calming modern pallete and stylish, yet understated hints to the movie through artwork and décor. The centerpiece of the room, though, is a sculpture paying tribute to the heart of Te Fiti that comes alive as guests enter their room for the first time.
There are two master suites in the room, along with a children's room, walk-in closets, library, four and a half bathrooms, dining area, pantry and windows that expand the full two stories. The suite will also be outfitted with its own concierge team, specially curated services, access to a private elevator and an array of fresh daily delicacies.
But guests won't need to stay in the Wish Tower Suite to be treated royally. The Disney Imagineering team has had the combination of guest services and unique experiences at the forefront of their design. The maiden voyage is scheduled to set sail on June 9, 2022, with additional sailings for the rest of the season leaving from Port Canaveral, Florida and itineraries including three- and four-night cruises to Nassau, Bahamas and Castaway Cay.