Taipei
#Butterfly Taiwan, the first stop around China
Published at 18:30, June 20, 2013
A person can walk freely for 15 days, ride for 12 days and 11 nights, with a total mileage of 1365.5km, and walk clockwise and counterclockwise.
I have played snow and seen the starry sky in Wuling, Taiwan; On the beach of Kenting, south of the border, I have seen the starry sky, sunrise and somersault after performance; From Puli, which is 400 meters above sea level, to Wuling, which is 3275 meters above sea level, it traverses the central mountains twice and descends 91 km and 3400 meters continuously; Chewing steamed bread in Qingshui cliff, blowing the Pacific wind; Riding in the storm on the northeast coast; I have lived in elementary school five times, I have been chased by dogs four times, three times "B & B", one time police station, one time seven, one time tent, one time Park
A mainland teenager in the 80's of the Republic of China took RMB: 900 yuan and exchanged NT: 4129 yuan (spent a third of the money to buy a mobile phone card and accommodation) to complete his first stop of butterfly China, butterfly Taiwan#
——Specific itinerary: January 27, 2013 day 0: Hangzhou - (plane) - Taipei Taoyuan - Taipei station January 28, 2013 day 1: Taipei Station - Miaoli Fenglin elementary school 111km January 29, 2013 day 2: Miaoli Fenglin elementary school - Puli police station 85km January 30, 2013 day 3: Puli police station - Hehuan mountain Wuling 56km, 2013.1.31 day 4: Wuling - Hualien Kailin elementary school 124km, 2013.2.1 day 5: Hualien Kailin elementary school - Taidong Peinan Township 166km, 2013.2.2 day 6: Taidong Peinan Township - Daren elementary school 61km, 2013.2.3 day 7: Daren elementary school - Kenting Nanwan 97.5km, 2013.2.4 day 8: Kenting Nanwan Pingdong - (District bus) - ershui seven 74km + 176km, 2013.2.5 Day 9: ershui seven - Riyuetan - Puli 61km 2013.2.6 day 10: Puli - Wuling - (by car) - Xincheng elementary school 58km + 91km 2013.2.7 day 11: Xincheng elementary school - Toucheng elementary school 111km 2013.2.8 day 12: Toucheng elementary school - Taipei 10194km 2013.2.9 day 13: Taipei New Year's Eve 2013.2.10 day 14: Taipei - (Guoguang bus) - Taoyuan Airport -( Aircraft (Hangzhou)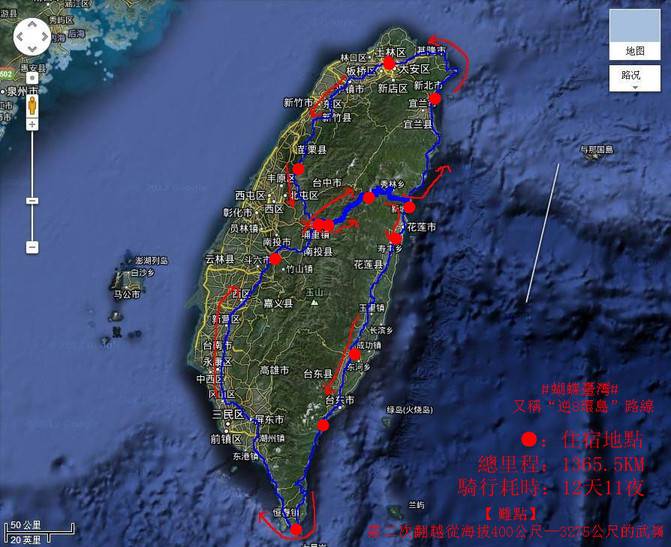 The reasons for choosing the route are as follows: 1. It can challenge the pleasure of crossing Zhongheng highway twice by rising 2800 + meters and dropping 3300 + altitude. ② Not for only go clockwise and regret not counterclockwise. ③ Butterfly Taiwan is the first stop of butterfly China, and the routes should be consistent.
——The words commonly used in Taiwan are different from those in mainland China: meter, MTR, Metro, trolley, motorcycle, OK bandage, communication channel, overpass, Internet cafe, supermarket, TieMa, etc Bicycles - bicycles won't - you're welcome - communication tools: Taiwanese like to use FB (Facebook), but they can't use it when they come back to the mainland. Chat (wechat) can also be used to communicate with Taiwan in the mainland - convenience stores: the most convenient convenience stores in Taiwan are 7-Eleven, followed by FamilyMart, OK and leierful, but 7-Eleven is almost omnipotent, 24 small business, WiFi, There are ATM, daily necessities, etc. (as long as you see 7-Eleven, it's as warm as home) because when you go to 7-Eleven, you can experience the feeling of being served. Almost every police station has a sign of TieMa post station, which provides free air, water, maintenance and simple medical services. Taiwan's cankun 3C is similar to the mainland's Gome (I bought a SD memory card and it can be replaced by invoice) - Taiwan Provincial Road knowledge: even generations show East-West trend, odd numbers mean north-south route - Taiwan's beauty: Taiwan's riding environment is very good, There are special bike lanes in some places. Taiwanese obey traffic rules very much. Even in remote traffic lights, they will wait for the red light for nearly a minute. The police in Taiwan are very kind and have no airs at all. In front of the police, you can fully understand what it means to serve the people. Taiwanese encourage cycling around the island and respect those who do. Taiwanese are very friendly, very willing to help people, very polite, orderly, and good at chatting. If you are tired of cycling, maybe the restaurant owner or passers-by on the roadside may have a long chat with you (I don't know if it's my mainland feeling)—— Besides the most beautiful scenery you can see in Taiwan, you can also see the most beautiful people in Taiwan. Their beauty is better than the scenery you can see. I met some examples: 1. When it rained on the road at night, my weak light was not far away. At that time, a Taiwanese car came from behind me, but it didn't overtake me. It kept following me about two meters on the wide road and kept lighting me. It didn't fill the gas door until I got to my destination( In the evening, when I was approaching Kenting, a car came in front of me. A few minutes later, a young man driver chased me from behind and stopped me. He told me where there was accommodation in front of me. There was a camping area where I could set up a tent for free, and the food in the camping area would even be provided for free, After telling me the exact location, he turned around and walked away. 3. The elder sister, who only met for the first time in B & B, introduced us to eat Hengchun's "Xiaodu steamed stuffed bun" the next day. However, we had to wait in line for several hours to buy this bun, because we were riding on the road, so we didn't buy it. But after we rode 30km, the elder sister drove up to us, handed me two "Xiaodu steamed buns" and drove away. 4. The police in Taiwan, the director of Puli police station whom they met the next day, were afraid that it would be dangerous for me to catch up at night. When I was sleeping, they stuffed a police reflective vest in my bag and worried that I would be hungry on the way. They gave me two bags of biscuits. I told him that I would come back here in seven days, but in the morning of seven days later, I received a call from the director asking me if I had arrived, and then invited me to his home to drive me around Puli and invite me to have a big dinner. The next day, before he went to work, he bought me Bento breakfast. When I woke up, the breakfast was beside the bed and gave me a bag of Dayuling tea. 5. I met an uncle in Taipei on the Internet who had never met before. However, when I learned that I was alone in Taipei on New Year's Eve, I took time out of my busy schedule to invite me to a reunion dinner on New Year's Eve. 6. In an ordinary family in Taitung, uncle Yang had a car accident seven years ago, and his back injury did not heal. He was living with his 7-year-old grandson. However, uncle Yang stubbornly gave me hot water and asked me to take a bath. Because his wife remarried and left home, he arranged for me to live in his daughter's room. The next morning, he cooked noodles again, and I was on my way. But he was together again. After breakfast, he took his grandson to work on the farm. He didn't even have a chance to wave goodbye. 7. Too many moves are not listed one by one. In a word, only when you really travel freely can you feel the most beautiful place in Taiwan.
address http://v.youku.com/v_show/id_XNTE4MDI4OTQw.html
Sequel - published on June 20, 2013 18:37
Plan of cycling around China:
Notice of cycling around Taiwan:
Sequel - published on June 20, 2013 18:41
Sequel - published on June 20, 2013 18:43
Sequel - published on June 20, 2013 18:45
Sequel - published on June 20, 2013 18:56
——First day of cycling, Taipei - data of Miaoli bairuiteng
Sequel - published on June 20, 2013, 21:46
Sequel - published on June 20, 2013, 21:48
Sequel - published on June 20, 2013, 21:55
——The second day of cycling, Miaoli Puli Peregrine data
Sequel - published on June 20, 2013, 21:58
Sequel - published on June 20, 2013 22:02
Sequel - published on June 20, 2013 22:07
Sequel - published on June 20, 2013 22:15
Sequel - published on June 20, 2013 22:20
Sequel - published on June 20, 2013 22:28
Sequel - published on June 20, 2013 23:38
Sequel - published on June 20, 2013, 23:40
Sequel - published on June 20, 2013 23:42
Sequel - published on June 21, 2013, 00:04
——Data of the fourth day of cycling, Wuling Hualian bairuiteng
Sequel - published on June 21, 2013, 00:06
Sequel - published on June 21, 2013 14:54
——The fifth day of cycling, Hualien Taitung Peregrine data
Sequel - published on June 21, 2013 14:55
Sequel - published on June 21, 2013 16:44
Sequel - published on June 21, 2013 16:46
——Day 6, Taitung Daren Google Maps
Sequel - published at 17:00, June 21, 2013
Sequel - published on June 22, 2013 15:51
——Day 7, Daren Nanwan Google Maps
Sequel - published on June 23, 2013 14:30
Sequel - published on June 23, 2013 14:32
Sequel - published on June 23, 2013 14:34
Sequel - published on June 23, 2013 14:38
——Day 8, Nanwan Pingtung (shuttle bus) - Google maps of ershui
Sequel - published on June 23, 2013 14:43
Sequel - published on June 23, 2013 14:46
Sequel - published on June 23, 2013 14:49
Sequel - published on June 23, 2013 14:51
——Data of the 9th day of cycling, ershui - Puli peregrine
Sequel - published on June 23, 2013 15:21
Sequel - published on June 23, 2013 15:26
——The 10th day of cycling, Puli Wuling - (hitchhiking) - New Town Peregrine data
Sequel - published on June 23, 2013 15:30
Sequel - published on June 23, 2013 15:33
Sequel - published on June 23, 2013 15:34
Sequel - published on June 23, 2013 15:36
Sequel - published on June 23, 2013 15:39
——Data of the 11th day of cycling, Xincheng Suhua highway Toucheng peregrine
Sequel - published on June 23, 2013 15:40
Sequel - published on June 23, 2013 15:42
Sequel - published on June 23, 2013 15:44
Sequel - published on June 23, 2013 15:46
Sequel - published on June 23, 2013 15:48
——The 12th day of cycling, Toucheng
Sequel - published on June 23, 2013 15:49
Sequel - published on June 23, 2013 15:51
Sequel - published on June 23, 2013 15:53
——Day 14, Taipei
Sequel - published on June 23, 2013 15:54
Sequel - published on June 23, 2013 15:56
Sequel - published on June 23, 2013 15:58