Taipei
[Taiwan] 9 days ~ Taipei, Kenting, Hualien, Shifen, Jiufen ~ Meitu! delicious food! Super detailed! You can start without think
Recommended accommodation
Via Hotel loft ¥ 244 immediate bookings >
Feilijin Hotel (Pingtung first Hall) (ppgold BNB) ¥ 368, book now >
Fengju Hotel (Taipei West Gate) (via Hotel) ¥ 276, book now >
Hualien 5FM homestay Jianlin ¥ 180 booking now >
Launch more hotels
Published on 2015-01-18 15:25
Time: December 13, 2014 to December 21, 2014
trip
Day1 Saturday, December 13, Shanghai → Taipei Taoyuan Airport
Day2 Sunday, December 14, Taipei
Day3 Monday, December 15, Taipei → Kaohsiung → Kenting
Day4 Tuesday, December 16, Kenting
Day5 Wednesday, December 17, Kenting → Hualien
Day6, Thursday, December 18, Hualien
Day7 Friday, December 19 Hualien → Taipei
Day8, December 20, Saturday, Taipei → ten → Jiufen
Day9 Sunday, December 21 Jiufen → Taipei → Shanghai
The cost is about 6500 yuan per person
Including: 149 yuan for Taiwan entry permit
Pass 50 yuan
Round trip ticket 1402 yuan
It costs 1015 yuan to charter a car
280 yuan for train ticket
The 8-night stay is 1928 yuan
The rest is basically food
get ready
1. Two certificates and one signature: the pass issued by the entry and exit administration of the mainland plus individual tourist visa (g signature) and the entry permit issued by the entry and exit administration of Taiwan.
In general, CYTS and Zhejiang Business Travel Association are more reliable in the application of Taiwan entry permit. The economic proof in the required information only needs to have a gold or platinum credit card. Note that it can only be a credit card, not a debit card. It's hard to say the processing time. I got it in two days. I saw that other people also had it in more than a week. It's also related to the number of quota people. It's suggested to make preparations early.
2. Huaxia card is highly recommended. There is no annual fee. Cash withdrawal three times a day is free of handling charge. First of all, the local cash exchange rate is much more cost-effective than the exchange rate. Second, it's safer not to carry so much cash at any time. All convenience stores in Taiwan can withdraw cash, which is very convenient. Huaxia debit card is a cash card.
3. If you want to change the money and take it with you, you can make an appointment in the Bank of China by telephone. You can make an appointment before 14:00 on the same day, and go to get the money the next day. After 14:00, you will have the next day off.
4. Credit card: many local places support UnionPay, but some don't, such as the railway station to buy tickets, so recommend a CMB full currency card, free of currency exchange fee, usually 1%, this card is also free of annual fee, and it's more cost-effective than UnionPay.
5. If you can't find four people to carpool, there are many carpool stickers.
6. High speed rail and Taiwan rail tickets
day http://www.thsrc.com.tw/tc/ticket/tic_kind07.asp
Taiwan Railway (14 days in advance, excluding the current day): http://www.hinet.net/
High speed rail tickets can buy early bird discount tickets or can be much cheaper, the maximum discount of 65%.
Some lines of Taiwan Railway need to be killed at 12 a.m., such as those from Hualien to Taipei and those from Kenting to Hualien. If you really can't buy a satisfactory flight, you can ask the B & B or chartered bus driver. Maybe the railway station will buy it directly. Some of the flights are known by local people. 95% off for online purchase.
7. Accommodation: it will be mentioned in the last part of daily travel notes.
8. Air ticket: bought by Ctrip, including tax 1402 yuan, good value for money!
Let's have a preliminary impression of Taiwan through this map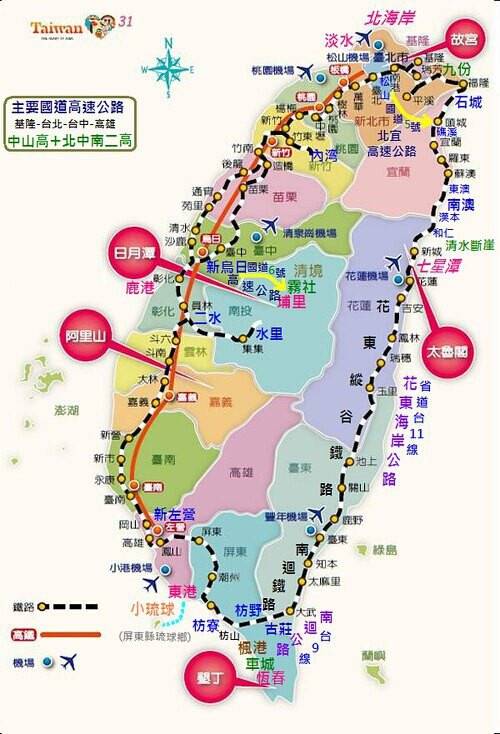 Taipei MRT Map
Note that you can't eat on the MRT, including drinking water and chewing gum.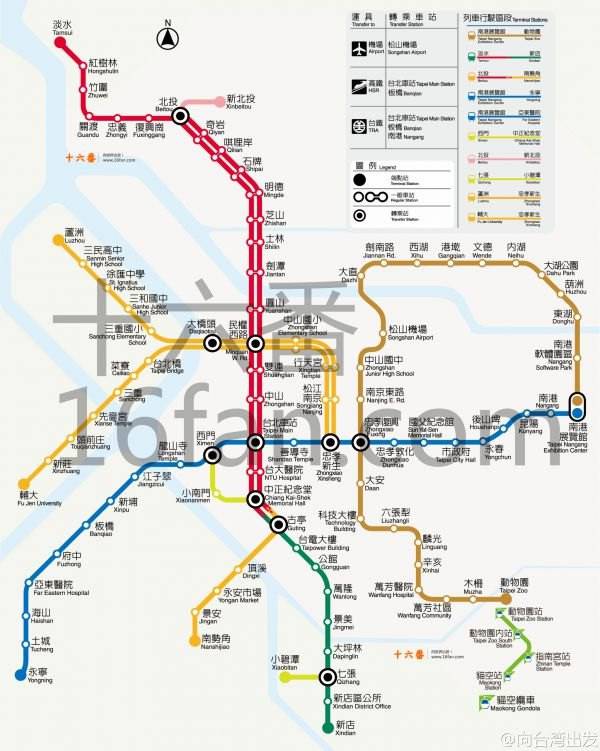 Travel notes officially started!
Day1 Saturday, December 13, Shanghai → Taipei Taoyuan Airport
China Southern Airlines flight cz3095 14:15 → Taipei Taoyuan T2 16:00
Don't rush out of the airport, remember to buy a phone card at the airport! After coming out, the store or convenience store doesn't seem to have such a set meal that is suitable for tourists to eat in a few days. It runs a 10 day, NT $500, unlimited Internet access and phone calls for 10 to 20 minutes. It seems that four of us use one card, one person sends hot spots, and the Internet speed is also very fast.
Mobile phones and China Telecom and other operators have airports. They can choose at will, and the prices are similar. However, the signal of mobile phones in Taipei is very good, but that of Kenting and Hualien is not very good. Local people in Kenting say that the signal of Telekom is better.
Get the map! If you forget, the railway station and other tourist service centers also have them.
The airport is too far from the city. It's about an hour and a half by car. I just found that Ctrip had a pick-up service of 1 yuan, and I didn't have any expectations. I bought p484, but I didn't expect it to be very reliable. I even waited for us, and it was delivered directly to the hotel, and the car was very comfortable. On the return trip, there are also people who want to send the plane, but it's not very convenient to go to the specified place to knock the seal, so forget it.
If you don't book a pick-up, take Guoguang bus No. 1819, with an interval of 5-10 minutes, 125 Taiwan dollars to Taipei station, and about 1-1.5 hours to Taipei station.
When you get to Taipei station, do these things:
1. Collect tickets. Previously, the train tickets bought online can be printed out.
2. Youyou card. This card is very useful, MRT can discount, convenience stores can brush. The card fee is 100nt. When returning the card, the card fee and balance will be returned, and 20nt service charge will be deducted. If you recharge, 500nt can definitely be used, or you can recharge less first. Convenience stores and MRT stations can recharge, which is very convenient.
3. For those under 30 years old, you can apply for youth card, which is free of charge. You can fill in the form. Some tickets can be discounted, but Taiwan tickets can be ignored, so it can only be said that it is p484.
We live in ximending, and after checking in, we begin to look for food.
The popularity of ximending is really very prosperous. It's a big business district, but there are no special high-end stores. There are many small fashionable stores. It takes a lot of time to go shopping seriously. It's not bad to go shopping and eat. There are many famous snacks. All kinds of purchase of skin care products can also meet the basic needs. There will be a lot of stalls in the evening for food and clothing, which is very lively. It's a different scene in the morning. It doesn't look like the same place at all.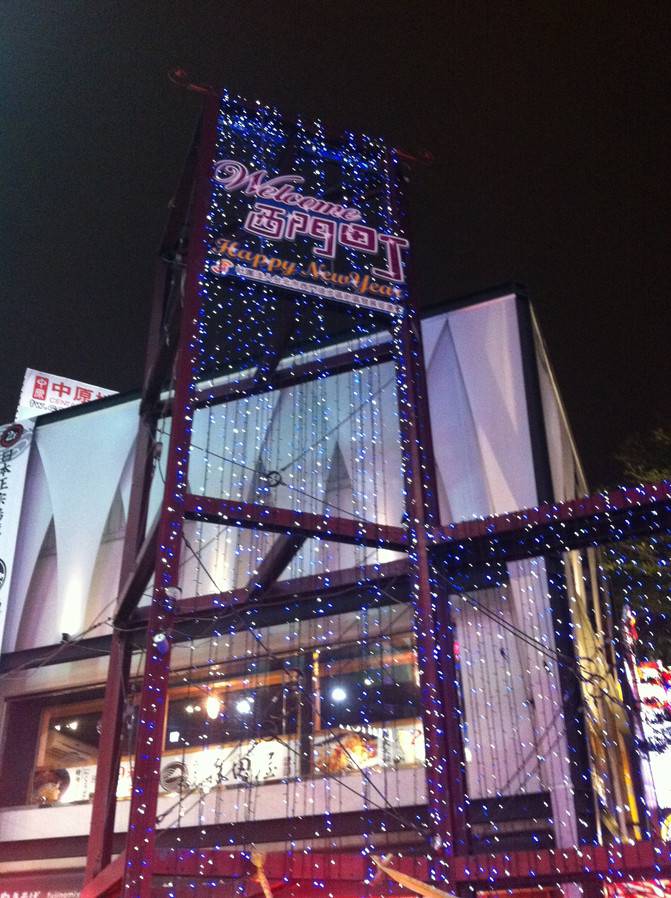 Duck meat flat (No.2, Section 2, Wuchang Street)
This store has already been my strategy, and then the driver recommended it on the way from the airport to the hotel, so I have to go. The driver specially said: don't eat too much, just taste it. When we asked why, he replied: because it's expensive! Ha ha ha, 300 NT dollars a goose leg is really not cheap. But it's still delicious. It's worth trying. Two kinds of dip sauce, goose itself is very fresh, meat has toughness, duck skin is also very fragrant. Rice noodles, 50 Taiwan dollars, is not delicious at all, rice noodles are hard, so it's OK for any shop to eat signature dishes. The environment is like a TV play. The boss is very busy.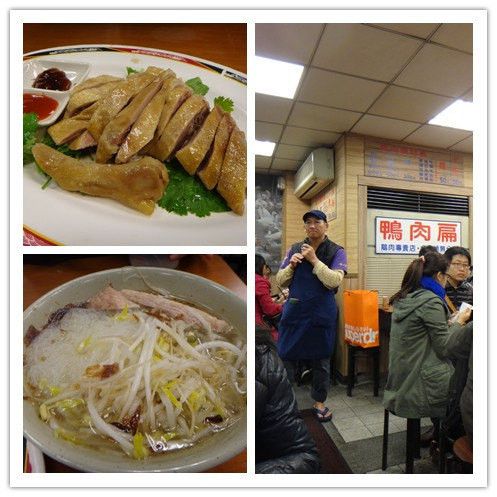 Azong noodle line (No.1, 8 Emei street, Wanhua District)
The team is spectacular, but the speed is fast. Don't be scared away by the team. It's basically 10 seconds per person. The small bowl is NT $50 and the big bowl is NT $65. The big bowl is much more than the small bowl. However, if you want to eat a lot of food, you still need the small bowl. If you can't eat it, it's no use. It's definitely better than Shanghai's. The noodle line is very clear, paste but not rotten. The large intestine is very elastic and clean. Give the large intestine 100 compliments. The taste is really unique. You have to eat it.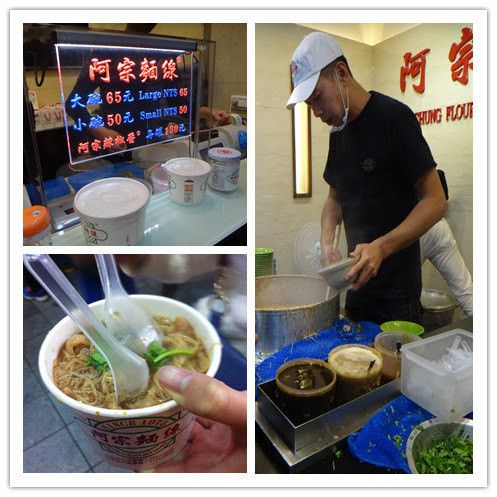 Chengdu carambola ice (No.3, Chengdu Road, Wanhua District)
It's easy to find. It's close to the MRT. It's a time-honored brand. Although it's winter, I still bought a cup to eat. It's NT $40 a bowl, a few carambola, and then ice sand. Carambola is pickled and very sour. I don't like the taste very much. Maybe people who like to eat acid will prefer it.
Take Bannan Line (to Nangang Exhibition Hall) to Chengpin Xinyi store, get off at the MRT municipal station, and go directly to Chengpin Xinyi store B2 from exit 2( United International Building, 11 Songgao Road, Xinyi District)
It seems that it is not only a bookstore, like a life Museum, but also a scenic spot. Most tourists come here to have a look, whether they really want to buy books or out of curiosity. A total of 6 floors, the theme is bright, large scale. It's very popular. It's not just books that sell. It's almost everything. The upgraded version of Shanghai book city. But I didn't come out of my imagination. There are too many people, too noisy and too commercialized. Without the tranquility and comfort of reading.
Walk to Taipei 101 (45 Shifu Road)
Walk around and eat dingtaifeng (B1 / F, 101 building, 45 Shifu Road)
I had consulted Taiwanese in Shanghai before, and was advised not to eat a chain store like dingtaifeng, because the taste is similar, and it doesn't represent the characteristics of Taiwan cuisine. But out of curiosity, I tried. The business is excellent. We still have to wait at 9:30 p.m., but it's already very good. It's only 10 minutes. There's a 10% service charge. The service is OK. The price is much cheaper than that in Shanghai. Crab meat and ordinary small cage each one, with shredded ginger, I prefer ordinary small cage, the skin is very thin and transparent, the taste is OK, I still think Jiajia soup bag is delicious. It's delicious. It's spicy and smooth. It's recommended. Steamed dumplings with shrimp have a common taste. Taro dumplings taste good, too.
Eat and drink enough to go back to sleep!
Accommodation: 2 / F, No. 17, Lane 114, Section 1, Zhonghua Road, Wanhua District.
The location of this hotel is a bit magical. In the ximending business district, there are clothes sellers like Shanghai Qipu Road downstairs and this hotel is upstairs. At the beginning, I felt very flustered. How could I be in this kind of environment, and it was very hidden. When I got to the service desk on the second floor, I found that it was a completely different scene, and it was very difficult to pass through. The service is very good. There is a 24-hour free meal bar on the second floor, with all kinds of drinks, snacks, biscuits, instant noodles and snacks. The environment is comfortable. This hotel is quite recommended, because the location is very good. It's close to ximending business district and the MRT. I stayed for three nights. The first two nights were big rooms. All kinds of things were good, but the bath pool was too high. It was very dangerous to climb in and out. On the last night, when the big room is gone, it's a small room. It's not bad. It's a small room. The price is about 630 yuan for a large room and 500 yuan for a small room.
Day2 Sunday, December 14, Taipei
Breakfast: Yonghe soybean milk (just in the ximending business district, just a few steps away from the hotel) is very different from Yonghe soybean milk chain stores in the mainland. It's just a small breakfast shop, and the environment is very shabby. There are few seats, but they are very popular. The calling card is a big playing card. The salesmen were quick and quick, paying and delivering. There are more than 100 varieties on the menu. Ham and omelet, 30 NT dollars, small, but it's delicious. Soybean milk, 20 Taiwan dollars, taste more common, but soybean milk is also this taste, how can it be.
Palace Museum: 221 Zhishan road section 2, Shilin District, Taipei, closed on Monday (main opening hours: 8:30-17:00)
Take Bannan Line (in the direction of Nangang Exhibition Hall) at Taipei station, change to Xinyi Line (in the direction of Beitou) or Danshui Xindian line (in the direction of Danshui), get off at Shilin station of MRT, and then take a taxi, about 105nt.
The original price was NT $160, but now it's NT $250. It's NT $150 after the youth card's discount. It's a bit fierce. But compared with the mainland scenic spots, this kind of ticket price is really compassionate. This is one of the few scenic spots in Taiwan that require admission. Three floors, full of treasures, can't take pictures. It's said that the Forbidden City in Beijing is to see the architecture, here is to see the treasures. It is said that the things here can be put in rotation for decades without duplicate samples. Cabbage and Dongpo meat are the most famous and must-see items for team visitors. They are full of people, but the things are really lifelike. There are not so many people in other pavilions, but the exhibits are also very wonderful and unforgettable.
Sanxitang teahouse: 4th floor, No.1 exhibition area, No.221, Section 2, Zhishan Road, Shilin District
After visiting the Forbidden City, I have lunch upstairs. It's on the fourth floor of the Forbidden City. There's no one. The environment is elegant and quiet. It's even more charming by the window. It's delicious. Beef noodles are delicious, with 3 small dishes. The soup is fresh and the beef is crisp and tender. In this environment, the cost performance is not low. Generally speaking, the environment is bigger than the taste.
Danshui old street
After the Palace Museum comes out, take a taxi to the MRT Shilin station, take the Tanshui Xindian line (Tanshui direction), and get off at the MRT Tanshui station.
Big steak (32 Zhongzheng Road, Danshui District)
It's here that we've been treated simply and rudely.
The unspoken rule is that one order is a staple food. But how can anyone who has had lunch before coming here and wants to continue eating in the old street be hanged by this tree? So he decided to have four people
Order two. Then we were driven out, saying that we could only pack, not eat, not even sit and wait to pack, 5555555. The key is that we accepted it. According to my usual temper, I must have left. I ordered a filet mignon steak for NT $350 and a beef steak for NT $280. It's really cost-effective, with a large quantity and good taste. Tangchi is iron plate. Also with a drink, soup, poached eggs, macaroni, absolutely can eat full. I think the beef steak is delicious. Walk around and digest.
Granny Maji fresh milk sweet potato (No. 220, Zhongzheng Road, Danshui District)
Fortunately, I took a detour to eat. Fortunately, at that time, I insisted on eating this, or I would really miss the good things. The store is very humble. Although it's made in the strategy, there are few people in the store. They think it's not so good. After eating it, they know that it's really a taste they've never had before. I ordered four kinds of flavors, peanut, sesame, coconut red beans, hot black sugar red beans, 100 to 120 NT dollars a share. I have to describe the taste. It's a bit like glutinous rice, but it's smoother and stronger than glutinous rice. It's a little ice cold, with a little milk flavor. The aftertaste is not acid. It's still very refreshing. I really like it. I like hot soup best, because it's the most refreshing, and there's no other things mixed up. We prefer coconut and red beans. It's also fun to eat. It's very recommended to dip chopsticks into small pieces.
After eating, go to Fisherman's Wharf. Because I was lazy, I didn't want to find a car. When I saw a ferry, I went by boat directly. NT $60 can be used to swipe the youyou card. It seems like ten minutes. I can't remember it clearly.
Because of Xiong Tianping's song with similar pronunciation, I don't know if it's sung here. I always feel very famous. It is said that the fisherman's Wharf is really a romantic place. It is suitable for a leisurely walk in the afternoon. It is said that it is more lively in the evening. There is a row of bars with a special flavor of petty bourgeoisie. There are street artists who sing. They really sing well. It's so beautiful to walk on the long wooden plank road. It's a super upgraded version of Shanghai's old wharf.
Lover's Bridge
This bridge is one of the highlights of fisherman's Wharf, with unique shape and beautiful night view. Under the bridge, a lot of boats were leaning on the shore, and the word "harbor" came to mind. I really like this kind of tune, a kind of romance and tranquility after wind and rain.
In the evening, I strolled around Fengfeng square (No. 39, Fuxing South Road, Songshan District), but I didn't get much. I bought some mask for my friends in the next room, Tomod's. The price is quite cost-effective, but it just killed me.
Then take a taxi to Ningxia night market, 130nt.
When you come to Taiwan, you have to go to night markets. Although you know that all night markets in the world are like this, out of curiosity, after all, Taiwan's night markets are the most famous in all night markets in the country. I have studied which night market to go to. I always hope to go to a larger scale and representative one. It is said that Shilin Night Market is not what it used to be; Raohe night market is a little far away, the traffic is not very convenient; After being strongly recommended, the airport night market was opened by the Old Navy. Any shop has a history of several decades. However, it closed earlier. After comprehensive consideration, I went to Ningxia night market. Then comment on the food one by one. The small intestine is wrapped in large intestine. The taste is acceptable. You can eat this kind of taste in Shanghai. It's very clean. It's wrapped in rolled paper and won't stain your hands. Duck tongue, ordinary, no need to eat. Baked seafood shellfish, 40 Taiwan dollars each, 100 three, this is the best to eat. At first, I thought it was baked sweet potato. Then I thought it was wrong, and I went back to buy it. I didn't expect that it was diced shellfish, really sweet rice. Oyster fried, general, but oyster quite big. The most authentic oyster fry is put chrysanthemum, not other green leafy vegetables. Fried chicken is not good. Fried squid, this is fun, but the taste is good, quite crisp. Papaya milk is full of ingredients. You can drink it or not. Sugarcane juice, this must drink, especially after eating so many flavors, especially fresh and sweet. Scallops, not bad. The meat is very tender. Finally, get some fruit to take back to eat. The environment of Taiwan night market is better than that of mainland night market. Apart from other things, the floor is not greasy, and there is basically no littering. Even if the public garbage cans on a street are hard to find, it is only later that we know that if we eat well, the garbage will be thrown next. Ha ha.
After visiting the night market and taking the MRT back to ximending, I still remember that tiantianlu Luwei store (No. 55, Section 2, Wuchang Street), a famous Luwei shop that I didn't eat yesterday, continued to buy and pack it back to the hotel.
I bought duck gizzard and duck arm. The cost performance of duck arm is quite high. It's super big. At that time, a Taiwanese recommended it like this: "you only know what duck arm is after eating duck arm here. Those in Shanghai are not authentic.". The taste is really OK. It's not as delicious as the legend, but it's not bad. Maybe it's too much to expect. The hardness of duck gizzard is moderate.
Carrying a large bag of facial mask for 10 minutes to go to STAYREAL (two floor 85-4 street, 1 floor, Wuchang Street) to buy the potato chips rabbit, and Shanghai did not have this. The price is very good, 199 RMB in Shanghai, 680 NT here. Those who like this brand must not miss it. To make it clear, I'm not Mayday brain powder, just like this cartoon image.
Accommodation Fengju Hotel
Day3 Monday, December 15, Taipei → Kaohsiung → Kenting
Breakfast: soybean milk in ximenting (No.24, Section 2, Hankou Street, Wanhua District)
With Yonghe soymilk is a neighbor, in a net corner, the day before eating Yonghe soymilk, do not want to repeat, then ximending soymilk it. Auntie took care of the shop by herself. She had a very clear idea. She ordered several things. I can't remember them. She can make them very clear. Rice rolls with bacon and eggs, NT $50. Rice rolls with bacon, eggs and rice are delicious. Soybean milk, NT $20, no impression. The environment is very simple. There are no seats. It's just a breakfast stall.
Take a taxi to Taipei station, 90nt. Take the high-speed rail 1615 to Zuoying, 7:48, about two hours. Early bird tickets bought online in advance are 65% off, 1055nt. The number of people who take high-speed rail is really small. There are no more than 10 people in a car.
After arriving at Zuoying, the taxi driver Chen Jie, who contacted us in advance, was already waiting for us. She was so lovely and enthusiastic.
The cost of a four person charter from Zuoying railway station to Kenting is 1800nt.
On the way to a seafood market for lunch, wow!
Also remember to buy local specialty fruits such as Sakya, red heart pitaya and guava. Sakya is super sweet.
After that, we started a half day tour in Kenting, and the half day charter fee was 2000nt.
A map of Kenting is attached
Longkeng Nature Reserve
Do remember to make an appointment one month in advance, or you will not be able to get in. You need to go over the wall to make an appointment, or you need to find a B & B or a bus driver to make an appointment. The visit is free.
In addition, every Tuesday off.
Only 200 people are received every day, and the quota is very tight. However, it's not a big problem to make an appointment until what time. As long as it's the same day, you will be allowed in.
Before you go in, you need to listen to the briefing. It seems that in ten or twenty minutes, you just need to see a slide to introduce the nature reserve.
The pass should be kept at the security office at the gate, replaced with a bracelet, and retrieved after coming out.
After half an hour's walk on the gravel road, there was little to see on the road.
The whole scenic area is still very spectacular. The wooden plank road is well paved. There is only one road along the plank road.
In addition to Haimei, there are many rare animals and plants, especially some precious birds. It's hard to see them.
The rocks are angular coral reefs with distinctive geological features, which are worth visiting. We will not be disappointed.
Eat Sanma stinky pot for dinner (108 Zhongzheng Road, Hengchun town)
It's not delicious. It's not recommended
It's dark, and then the next attraction, a fire
This scenic spot needs to come at night, because you can see the blue light in the fire at night.
It's amazing that there may be natural gas under the soil. The fire is burning all the time and has never been put out. Just dig a stick and the fire will start.
Keep eating on the way, Xiaodu baozi (29-6 Hengnan Road, Hengchun town)
A total of 11 varieties, a lot of strange stuffing, what pickle stuffing, puff stuffing, lion head.
Finally, I chose the meat bag, egg yolk and mushroom meat bag, and Su Ma Hong Dou bag. Fortunately, after I got on the bus, the driver asked, did you buy the cheese bag? No, I got off the car and made up for it.
Sure enough, the cheese bag is the biggest feature. It's not uncommon for cheese to be shredded. This cheese can taste meaty, and the more you chew it, the more fragrant it is. It's highly recommended.
The others taste good, but they are not as amazing as cheese. Maybe if you don't taste cheese, you will forget this shop in a moment.
The flour of steamed buns is also very good.
His milk tea is also very good.
Steamed pork bun with mushroom and egg yolk
12 snack bar (Dawan Road, kendingli, Hengchun town)
It's a little late. Many shops are closed, but I really want to eat stewed meat rice. This one just has it.
Here I have local characteristics, lice fish belly soup, very strong ginger flavor, but the fish is still very fishy, the meat is also very wooden, I can't get used to it.
The stewed meat rice here is not good either.
Fish ball soup is quite elastic.
Kenting Street
In fact, Kenting is very small. There is only such a Kenting street. In fact, most of what we call Kenting refers to Hengchun Peninsula.
This street is very busy at night. In this tourist city, visitors have no place to go at night, they just go to Kenting street.
Anyway, it's a place to eat and drink. The whole street is quite long. Don't eat that eye-catching handmade ice cream. It's not delicious at all.
In other words, I understand that Kenting is much more simple than Hualien and other places. This small place surrounded by the Pacific Ocean, Taiwan Strait and Bashi Strait is a place where you can rent a locomotive to play slowly.
Well, eat and drink enough, Hui people stay!
Accommodation: no.142-1 Dawan Road, kendingli, Hengchun town
A 4-person room, 3800 NT per night, 500 RMB deposit in advance.
Looking at the photos online, this B & B is very beautiful, so I chose it.
We live in a four person sea view room on the top floor. The problem is that there is no elevator. It's a big problem to move luggage up.
This room is really big, but it's obviously a three person family room that has been changed into a four person room. It's too profitable.
It's a bit crowded for four people in such a room.
Later, the driver said that in the off-season, your room for four is next door. You can borrow two double rooms for the same room type.
That's all right. The key is that the landlady is in a hurry to do business. As soon as she checks in, she has to pay the bill. She says that the deposit is 4.8, and it's more than 5, OK? It's too good.
The balcony is large and faces the sea, but it is not exquisite enough.
The bathroom is also very big, the bathtub is very beautiful, but it's not suitable for use. The arc is uneven, and it can't put anything. It's good-looking and hairy. It's said that looking up to see the stars is actually a very dirty little glass. I promise no matter how bright the stars are, I can't see them.
However, the shop owner will drive us to the nearby seaside to catch crabs in the evening. If you are interested, you can follow us. Because it's too cold at night, we didn't go.
hermit crab
Day4 Tuesday, December 16, Kenting
Breakfast: shark bites toast (146 Kending Road, Hengchun town)
Shanghai Sun and moon learned about the brand and decided to taste the authentic taste of Taiwan.
It's about 40 RMB per capita. It's not cheap as a breakfast.
But it's very rich. There are toast, vegetables, meat, eggs, fruits and drinks.
The toast is soft and delicious.
The fumes in the shop are a little heavy.
Starting today's journey, the one-day tour of Kenting costs 3000NT.
Sailstone
It's named after a stone that looks like a sailboat. It's also called Nixon stone, because it looks like Nixon's head.
Sand Island
The coastline is very beautiful, blue sea, blue sky and white sand. It's really beautiful. There is also a pavilion to visit.
Mossy coral reefs on the beach are also wonderful.
Oluanbi Park
Admission fee: NT $20 for youth card.
It's a big park. The famous lighthouse is here.
It's a big lawn, a lot of coconut trees. Many coconut trees here bend in one direction, because the strong wind here only blows in this direction.
The whole plank road along the coast.
The southernmost tip of Taiwan is the boundary between the Pacific Ocean, the Bashi Strait and the Taiwan Strait. Its geographical location is very important.
The tour time of this scenic spot is about one hour.
Longpan
I don't know if it's so windy, because the terrain is relatively high and the northeast monsoon makes people almost unstable. I feel that the car is shaking in the car.
But the wind is strong, the sea wind is hot.
The scenery is good. The view from high is very spectacular. Looking down, there is a small grassland. The seaside grassland has its own characteristics. There is such a strong wind and animals are eating grass.
Play creative panorama, ha ha!
Pass by a suspension bridge, take some pictures!
See a lovely car, take a picture first!
Well, it's lunch time again. Eat in jialeshui. Continue to serve seafood!
The price of this meal is 4780nt.
Jiale water
No tickets, but you have to charge NT $40 for environmental protection tickets. The whole journey in the scenic spot is on the car. Every place you go, the driver will remind you what this stone looks like, and then stop or slow down a little. In a word, just imagine. Choose the seat on the right as far as possible. The scenery is on the right.
At the end of the line, I will let you off for a 10 minute walk. At last, the face on the stone is still very similar. It's a heavy feeling.
Then, the driver, sister Chen, took us to her house to pick coconuts, because we saw that "where is Dad going" had played this. The fresh coconut is delicious! Thank you for your hospitality!
After that, someone suggested that we should go out to sea to see coral and fish, so we went to take a boat. The cabin of this boat is transparent, just like snorkeling, and we can see the fish and coral in the sea.
outlet
It's the water outlet of the nuclear power plant. The water is very blue, and it will show a variety of different colors. This place is also for everyone to see that the water discharged from the nuclear power plant is not polluted.
Baisha Bay
Do you still remember the beach where PI finally landed in "fantasy rafting of youth pie"? It's here to take a picture. The boat and the tiger are also here. But the forest PI walked into was not here.
This beach is not very big. The sand is very white. Even the sea looks a little bit blue and white. It's a beautiful beach.
You can watch the sunset.
A Jia's home
In Hengchun ancient town, the entrance fee is NT $50. If you don't go in, you can see it at the door. It's just like an ordinary home.
It was famous for Cape Seven, and then it became a scenic spot. At present, the decoration is still the same as in the movie, and it hasn't moved. There are souvenirs and postcards at the door. It's said that the door is very old-fashioned. It's very rare now. Anyway, if you don't see it, you don't know what's old-fashioned or new-fashioned. It's just a pleasure to watch.
In fact, I'm going to eat mung bean and garlic nearby, but it's closed that day.
Dinner: Grandma's snack
Hand made dumplings are quite good, and the taste of other points is OK. There are also some things that they pickle themselves, which are similar to the nature of our pickles.
I found that they eat sour bamboo shoots just like Guangxi people. It's the kind of stinky things that often appear in snail powder. Many people can't accept the smell.
Accommodation: feilijin B & B
Day5 Wednesday, December 17, Kenting → Hualien
It is said that it is difficult to buy train tickets from Kenting to Hualien. In addition, the introduction shows that the sea view along the east coast is very good, so I choose to charter a car so that I can play all the way. The whole journey is more than 300 kilometers. It takes about five or six hours to drive continuously. It takes about eight hours to play while driving.
Today's charter fee is 70000nt. The master drove from Hualien to Kenting in the middle of the night to pick us up, so it's definitely not cheap. I feel that carpooling would be a wise choice. First, drivers don't need to drive continuously, which is very dangerous. Second, the fee will be much cheaper. 1200nt is a person, and the scenic spots will not be affected.
Driver: ah Xiong, a native of AMI nationality, has a tour guide card. He will explain some scenic spots to us. He claims to be more handsome than jinchengwu, and there will be photos later. In my opinion, Aboriginal people have a strong primitive survival ability.
Breakfast: it's said that Taiwan's instant noodles are delicious, so I want to try them. I haven't eaten instant noodles for several years, and I have no love for them all the time. They still taste like instant noodles.
Duoliang station
This scenic spot belongs to standard configuration. Basically, the driver is tired after driving here. Before that, there was a long mountain road and it was a little small, but the road condition was good. It just stopped here to let the wind out.
From above, the scenery is pretty good. This section of railway is close to the sea. Imagine sitting in the train to have a look at the sea view is pretty good. Now the station is abandoned.
Lunch: Royal beef noodles
In fact, there is nothing in this town. There are two choices: seafood or beef noodles.
I ate too much seafood a few days ago. Let's try beef noodles.
I chose Sanxian beef noodles. It costs NT $120. The ingredients are very rich. The beef, beef tendon and tripe are very tender, and the soup is very fresh.
I ordered a few more dishes. They were all delicious. Don't miss it when you pass by.
Sansiantai
This is one of the most beautiful scenic spots on the sea line. One of the highlights is the Baxian bridge, which is composed of many arches, like a rainbow across the Pacific Ocean.
It's also very beautiful to see the sea here. It's suggested to reserve more time. However, the east coast is very windy when it comes to the northeast monsoon.
There are also many people picking up stones by the sea. After going through Kenting, they can hardly see the beach. It's all cobbles. It's said that when the wind is strong, the stones will be turned over by the sea, and the possibility of finding jade is very high. There are Taiwan Jade and cat's-eye stone. Where there are mountains and water, there are always many gems.
the Tropic of Cancer
A special-shaped building marked by Tropic of cancer. There is nothing else. Just take a picture with it.
The AMI people in the square are singing and dancing, and they feel very lively all of a sudden.
Tidaan
If you just go in, you can camp. You need to apply in advance.
The geology here is quite distinctive. The gray white rocks are worth seeing.
It's relatively early to go to the city. Go to eat the legendary bomb onion cake
It's NT $30 each. It's actually a soft boiled egg wrapped in a scallion cake. Although I've imagined it thoroughly before eating it, there will be some surprises. That is to say, when eating the normal scallion oil cake well, I suddenly bite the explosion point, and the egg liquid overflows with endless aftertaste.
It's really delicious. It's a must when you come to Shanghai.
Local people are also very popular, although there is no queue, but the passenger flow is uninterrupted.
I went to B & B, put my luggage in and went to Ziqiang night market.
Night market is not small. It seems that everyone goes to Hualien night market.
Things are similar to most night markets. There are several famous night markets to try, such as the first barbecue, Jiang's coffin and so on.
The first barbecue
When the driver took us to the door, he reminded us to go to this house first, and then there will be more and more people.
Sure enough, we have to queue up for a long time. We'll take the number to another house to eat, and then we'll come back.
In fact, it's not very special. Maybe the sauce on the outside is more special. All the baked goods in his family are made of this sauce, so it's almost the same taste and sweet.
Jiang family coffin
This is the second most popular night market, the name is very curious. There are medals on the wall.
In fact, it is to dig out the core of bread and fill it with various fillings.
I tasted two flavors, pineapple shrimp ball and cream crab meat, 55 Taiwan dollars each, pineapple shrimp ball is slightly delicious.
To put it bluntly, it's nothing fancy, and it's oily. I don't like it very much. I can eat it casually and satisfy my curiosity.
Drink black tea and milk tea freely. Pour them in a teapot. It's good to drink.
Wonderful juice
Mango Milk, 40 Taiwan dollars, very rich, you can drink mango fiber.
After dinner at Ziqiang night market, I went to far east department store to digest. It was just across from the hotel.
A general department store has a supermarket on the ground, and its products are still far behind those in Taipei.
There are not many people. There are many people in the Starbucks at the door.
Accommodation Wuzhishan B & B: 53 Jianlin Street
Booking, 1450nt.
I have to take off my shoes when I go in, so I think my home is pretty clean. They don't even wear slippers and walk barefoot. The problem is that my feet are very cold when I wear slippers.
This B & B house is run by parents and two sons. The two sons are still at school age, but those who don't go to school learn by themselves at home. Their parents teach them by themselves. They have a good personality. Children are quite capable. They take care of a lot of things, just like adults. They say they are the boss here. Their father is a part-time worker and their mother is a busboy. Ha ha.
A piano in the living room on the first floor is played by his mother. It is said that he is a piano teacher.
Facilities and other things are OK, opposite is a large shopping mall, you can also see the dance of aunt square.
It's a little far from the famous Ziqiang night market. It's about ten minutes' walk and it's a very dangerous bridge.
Day6, Thursday, December 18, Hualien
Breakfast: sandwiches and Mizuho milk bought by the family opposite the B & B
In other words, the convenience store is called convenience. You can withdraw money, copy, charge youyou card and toilet.
Starting today's journey, Huadong longitudinal valley line costs 3500nt.
Liyutan: 100 Huantan North Road, Shoufeng Township, Hualien County, Taiwan
Breeze blowing, the lake such as the scene, beautiful scenery, fresh air, quiet sorry to disturb.
A road, you can ride a bicycle or walk, bicycle about 30 minutes, this is a suitable place to play slowly, quietly in a daze there. In other words, Hualien is a good place with good mountains, good water and good boredom. I would like to be bored here all the time.
We walked, so we didn't finish walking for a while, and we turned back because of the time.
There is a mountain climbing Road. It's also a good choice to start climbing in the morning.
Ah Xiong took us to pick up stones and shovels. Ha ha.
The most interesting thing is that I don't know where an old man came out and talked to us about his first love. He said that the girl said it was beautiful and would come back to him, so he "waited all his life, hated all his life, complained all his life, thought all his life, but still appreciated God, let me have this person to wait, hate, complain and think about.". Ha ha ha! I used Xia Yuhe's lines. But this old man is waiting while he is getting married. Ha ha ha!
Yunshan: Lane 2, Section 2, Fengping Road, Shoufeng Township, Hualien County
It's a super beautiful scen