Macau
Dr. Oz Helps Save Passenger at Airport
Most people know Mehmet Oz simply as Dr. Oz, who hosts his own daytime television show and makes numerous appearances on TV.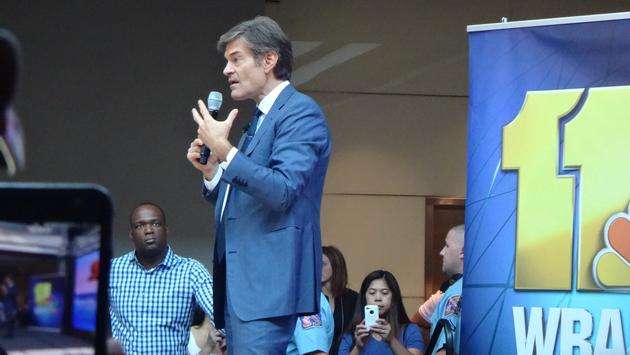 On Monday night, a handful of people got to see the side of Dr. Oz who is still a practicing cardiothoracic surgeon.
The celebrity doctor rushed into action at Newark-Liberty International Airport when a man collapsed at the baggage claim area. Oz and his family were returning from Florida.
The man was foaming at the mouth and bleeding from where he had hit his head on the floor, Oz's representative told ABC News .
Officer Jeffrey Croissant of the Port Authority of New York and New Jersey Police Department was on patrol in the area and rushed to help the man, who was not breathing and did not have a pulse. Croissant immediately called for back-up and started to perform cardiopulmonary resuscitation (CPR) on the man.
Oz also ran over to help Croissant revive the man, according to a statement from the Port Authority of New York and New Jersey Police Department.
"I couldn't get a pulse, which is the first thing you check for. He wasn't responsive," Oz recalled during an interview Wednesday with ABC News' Robin Roberts on "Good Morning America." "I had to roll him onto his back and recognized that he was purple, I mean the color of an eggplant, and that's a bad combination. And there's that soul-sapping moment when you realize you're losing a life. So I started doing CPR, which is my training."
Croissant told ABC News that he didn't recognize Oz at first because face masks are required at the airport, but once he did, the officer thought: "You really can't get better help than that."
Within minutes, more officers arrived on scene with oxygen and a defibrillator. After several more cycles of CPR and being shocked with the defibrillator, the man began to breathe on his own and was stabilized, according to police.
The man, a 60-year-old New Jersey resident, was transported to a local hospital in intensive care and is undergoing further evaluation, according to police.
"It is a true miracle with the odds heavily against him," Oz added, while praising the officers who also sprung into action.
"He's doing very well. He's in the ICU but leaving today to go to a hospital closer to his home. He's awake and alert, neurologically intact."