Taipei
Explore 'The Reserve' at Paradisus Playa del Carmen
Everyone is dreaming up the perfect vacation, and many of these dreams consist of long days spent in the sun, family bonding time over delicious meals, endless activities to enjoy and, of course, plenty of relaxation after what has been a stressful year for most.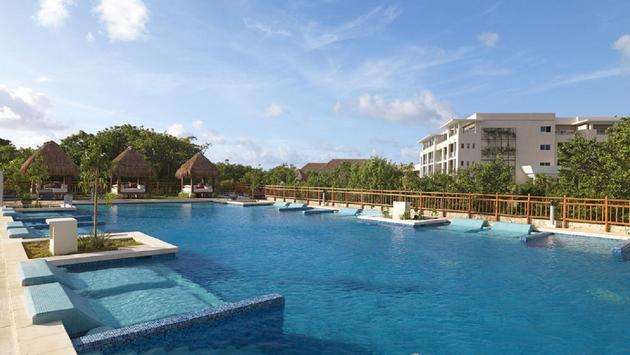 Mexico has been among the top searched destinations for future travel, and Playa del Carmen, in particular, comes in just behind number one. Travelers stuck at home are longing for those white sand beaches and pleasant year-round temperatures.
Located conveniently in this area is Paradisus Playa del Carmen . The resort has been successfully open since July 1, 2020, after being closed due to coronavirus, and it opened with a reimagined configuration . No longer is it Paradisus La Perla and Paradisus La Esmeralda, but instead one resort called Paradisus Playa del Carmen, open for everyone.
Although the hotels have merged into one property, there is still an option for an upgraded experience. The Reserve is a category that enables guests to find the added luxury they are in search of. With a personalized concierge, private pool access, exclusive beach area and more, it's an ideal option for families wanting to take their vacation up a notch.
The Reserve Paradisus Junior Suite is ideal for families, as it's spacious and equipped with everything a family might need. From the fully-stocked minibar and 24-hour room service to the 40-inch flat-screen TV and private terrace with a whirlpool bathtub, there shouldn't be any complaints.
Other perks include access to a private beach area with concierge service, access to a private pool for The Reserve adults, turndown service every evening, access to the YHI Spa water ritual, preferential reservations for à la carte restaurants, spa and activities and much more.
To top it off, guests staying in this room category have a personal concierge to take care of any need that should arise during the stay. The Reserve rooms have one king-size bed; however, two double beds can be requested at check-in.
Adults needing to work remotely and children needing to do homework or stay up to date with virtual school will have no problem, as high-speed Wi-Fi is included.
It's impossible for families to get bored during a stay at Paradisus Playa del Carmen. In addition to enjoying the ocean and pool access, the resort also has several activities for children, teenagers and adults to take part in. The hotel is also in a prime location for excursions, should families choose to venture out for the day.
To learn more about this upgraded category at Paradisus Playa del Carmen, contact a travel advisor or click here .