Taipei
Explore the Atlantic Coast With Victory Cruise Lines
Explore North America with Victory Cruise Lines . Travelers can set sail and see some of the highlights of southern coastal charm onboard Victory I.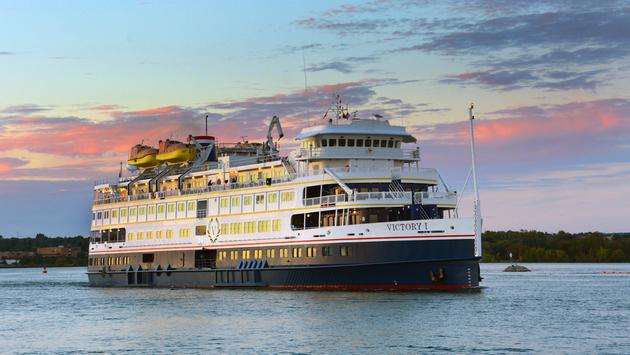 The Amelia Island Voyage sails roundtrip from Amelia Island, Florida, with stops that include Brunswick and Savannah, Georgia; Charleston and Beaufort, South Carolina; St. Augustine and West Palm Beach, Florida; and Freeport, the Bahamas.
Along the way, guests will see Brunswick's charming architecture and enjoy its gastropubs and seafood shacks, stroll the pedestrian-friendly streets of Savannah and explore the centuries-old City Market. They can also enjoy the candy-colored waterfront houses on Rainbow Row in Charleston and visit Antebellum architecture in Beaufort.
As they head to St. Augustine, passengers can take a sip from Ponce de Leon's Fountain of Youth and discover the historic charm of Clematis Street in West Palm Beach.
After a day at sea, guests arrive in the Bahamas for a day in Freeport to see waterfalls, underwater caves, tidal pools and more before enjoying another day at sea and returning to Amelia Island to disembark.
While at sea, guests will feel right at home. The Victory I invokes a feeling of classic luxury on the water. Passengers have a variety of staterooms to choose from, including the luxurious Owners Suite as well as comfortable oceanview cabins, and there is plenty to do on board the ship to keep them entertained.
The Owners Suite boasts 335 square feet of space and a semi-private terrace and is furnished with a queen-size bed, a furnished sitting area with a sofa that pulls out to a bed, a mini-refrigerator and more.
Oceanview cabins have approximately 150 square feet and feature queen-size beds, mini-refrigerators and writing desks. Those in Category AA offer direct access to an open-air deck with outdoor seating.
While onboard, guests can choose from several eateries, including the Coastal Dining Room and the Grill. The Tavern serves light snacks and signature cocktails and is the place to be in the afternoon and evening. The Compass Lounge hosts evening lectures from esteemed guests and, in the mornings, is where guests will find coffee and pastries.
Guests can also take time out for themselves at the onboard spa, salon and fitness center or pass the time with views of the sea from the Sun Deck.
The journey encompasses 12 days with departures onboard the Victory I beginning in February of 2022 . Travelers can take advantage of Victory's spring sale if they book by June 30.
The promotion includes up to $4,000 bonus savings per stateroom using code SPRING.
To learn more, contact a travel advisor or click here .