Hong Kong
Free travel in Europe: Netherlands, Belgium and Germany
Days: 12 days
Time: April
Per capita: 16000 yuan
With whom: with friends
Play: free travel, photography, humanities, food, petty bourgeoisie
The author went to these places
Netherlands
Germany
Amsterdam
Lisser
Brussels
Bruges
Ghent
Frankfurt
Heidelberg
Cologne
Kukenhof Park
Markers
Volendam
Hotel Mozart
Grand Plaza Brussels
city hall
Lake of love
bell tower
Rome square
Main
Philosopher's path
heidelberg schloss
Cologne Cathedral
Cathedral
Recommended accommodation
Hotel Mozart ¥ - 1 booking from now on >
Launch more hotels
Published on June 4, 2015 18:28
Holland, Belgium, Germany, a total of 12 days. As early as December 2012, we began to plan, prepare Schengen materials, and formulate the itinerary. From the first five people to the time when we applied for the visa, only my sister sharp and I were left. After all, there were only two girls, who were from a foreign country and didn't know the language. But one sentence made me firmly determined to travel: "there are thousands of reasons not to travel, but there is only one reason to go: go."
How many opportunities in life, you can go without hesitation? Fortunately, the scenery was beautiful, the sunshine was brilliant, the people I met were warm and friendly, and the trip was almost plain sailing. I didn't feel real until I got home and fell asleep in bed. It turns out that the dream that once made me feel unreachable is so easy to realize. Just take a step. The beautiful scenery on the road is worth remembering all your life.
——————————————————————I'm finished with the fake literature and art. Let's talk about the reality. Cough... 1. Apply for Schengen visa for Dutch tourism. 2. Preparation before travel. 3. Travel notes & Introduction (including accommodation, transportation, transportation, etc.) All kinds of tickets) departure 2013 / 04 / 29 - Nanjing Lukou Airport flying to Hong Kong International Airport 2013 / 04 / 30 - Hong Kong International Airport flying to Amsterdam Europe tour Holland - passionate and free Orange Country 2013 / 04 / 30 - Amsterdam and Harlem on Queen's Day 2013 / 05 / 01 - lisser Kukenhoff's trip to Holland in Europe -- walking out of the noise 2013 / 05 / 02 -- Van Gogh Museum in Amsterdam, Harlem 2013 / 05 / 03 -- Malkin, flandan Harlem's European tour in Belgium -- linger in the hometown of chocolate 2013 / 05 / 04 -- Brussels 2013 / 05 / 05 -- Bruges 2013 / 05 / 06 -- gent's European tour in Germany -- cloud and sunshine crisscross 2013 / 05 / 07 -- Frankfurt 2013 / 05 / 08 -- Heidelberg 2013 / 05 / 09 -- Cologne
Return journey 2013 / 05 / 10 - flying from Frankfurt to Hong Kong International Airport 2013 / 05 / 11 - flying from Hong Kong International Airport to Nanjing International Airport: not including gifts, chocolates, etc, About 1 W6 RMB 8 days eurorail pass: 2420 RMB Book TGV seats from Amsterdam to Brussels: 20 euro (including handling fee) Holland pass: 46 Euro accommodation: joops Hotel, Harlem 399 Euro Brussels Hotel Mozart 270 Euro Frankfurt pension alrfa 250 euro air tickets: 6868 RMB and other transportation and meals
Application for Schengen visa for Dutch Tourism
First of all, it must be clear that the longest stay in the Netherlands, otherwise it is easy (basically) to be refused. Once the visa is issued, you can travel freely between European Schengen countries as long as you don't leave Schengen countries during the validity period of the visa. All information should be in both Chinese and English. It is recommended to prepare two copies, one for submission and the other for travel. Most of these are available on travel websites. I'd like to give you some help in preparing to apply for a visa.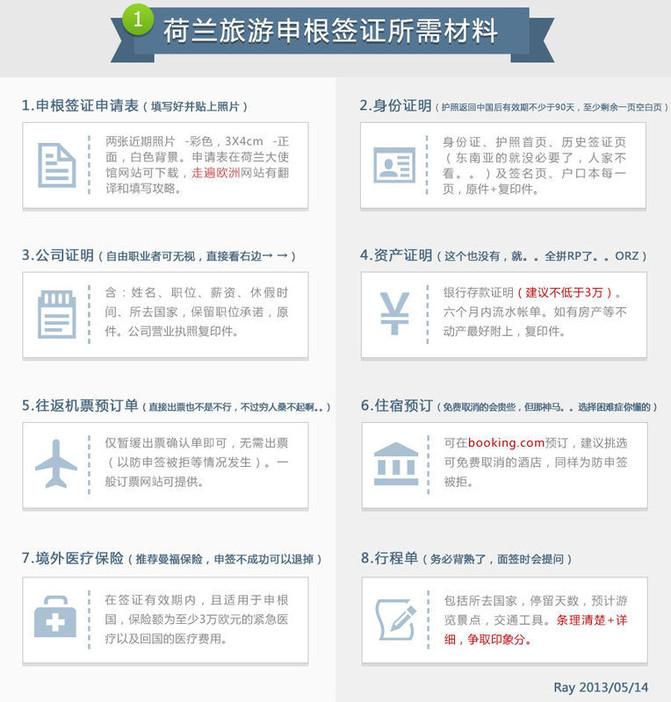 After preparing the materials, you can go to the official website of the Dutch embassy to make an appointment( There are Dutch embassies in Shanghai, Guangzhou and Beijing) our reservation is Shanghai embassy, which is located on Ruby road. The visa application fee is 510 RMB, calculated according to the exchange rate of the day. The face-to-face signature seems to be the Southeast Asian beauty who is a bit fierce in the legend, but we feel that she is very friendly. Asked me if I could speak English, then I talked in English. My English is very poor, but also said while thinking, she also very patiently nodded to indicate that I do not worry. They are all routine questions, such as what to do, how many days to go, where to live and so on. It can be said that if the materials are ready and the itinerary is memorized, you will not be embarrassed. The visa can be collected by yourself or sent by EMS (45 yuan). We signed it on Friday. Next Tuesday, we checked the express delivery and found that it had been signed successfully (although we are a single houseless young woman, but we have passed the bird properly without danger ~). Oh, Lala, we can prepare for the trip happily next.
2.Preparation before travel
PS, please bring a credit card. Amsterdam vending machine can only use credit card or ov card. Otherwise, it will have to be done manually... Try to exchange the euro for a small amount, preferably no more than 50. We first changed 100, then went to the Bank of China again and again, and finally changed to 50. Never take 500!
Eurorail tickets need to fill in the information in advance, and go to the railway station to activate when they are used for the first time.
Day 1 April 29, 2013 Hong Kong International Airport
Waiting for transfer at Hong Kong International Airport. Outside the window, the mountain rain is coming, and large dark clouds are pressing on the top.
More than 30 degrees below zero outside the engine room, ice on the window. When I see it, I feel beautiful. When I take a picture, I am afraid of it...
I don't know if it's cloud or sea ice? Seeking popular science
Holland: a free and passionate Orange Country April 30, 2013 Amsterdam and Harlem on Queen's Day
—————————————————————————————————
Buy a ticket to the central railway station. Ticket vending machines, using only credit or credit cards.
The camera was found
It's also on the plane, but I can't understand foreigners
The day of arrival coincides with Queen's day in Holland (this year, the queen abdicates and is renamed King's day). The streets and alleys are full of people celebrating. It seems that the Dutch have taken to the streets. They are either wearing orange clothes, or wearing orange ornaments, or with orange painted faces, laughing, singing and dancing. The whole city is like an orange ocean. People who come and go do not hesitate to show their happiness to others. They greet you warmly with a smile on their face. Being in it will make you involuntarily infected by this happiness. Amsterdam is a busy tourist city, full of tourists from all over the world every day. But if you're going to Holland, don't miss the day.
Amsterdam, Queen's day, let you see the real Dutch, see their passion and free soul.
Amsterdam Central
Where we ran almost every day when we were in Holland. You can't run anywhere. You can't make a transfer or start from here. The weather is still a bit gloomy in the morning, and gradually sunny in the afternoon.
Gothic and Renaissance style of the central railway station, you can imagine the day's style and luxury
I have to mention that the uncle in yellow vest learned that we had bought the wrong ticket, so he specially helped us to return it and reminded us to keep the money
The original plan was to check in your luggage at Amsterdam's central railway station and start a one-day tour on Queen's day. But.. No one has ever said that Queen's Day is a special day, and the station is not open! Hang Dad... So we took the train to Harlem with our luggage, and then went back to Amsterdam.
Harlem
Harlem, 20 minutes from Amsterdam, is a small city. It used to be the capital of the Netherlands, not as well-known as Amsterdam. Most people yearn here because of the movie daisy. But walking in the small town, you will find that even if there is no Daisy, you will stop for its own beauty. Harlem is really not big. You can walk around in one day. But for me, living here for four days seems to have gone through every corner. But always in the next second to find it has a different face. On the morning of leaving, I passed the fair full of flowers and food. Looking at the busy Dutch people in the sunlight, I felt that our stay was too little and too short. I felt a little sorry.
Route: from Harlem railway station to our hotel. The hotel is near the church, which is the center of the city
Old railway station
Unlike Amsterdam Central railway station, Harlem railway station is a low-key retro medieval style, reminiscent of old yellow photos
I'm going back to the central railway station when I meet a group of young people
Coming back from Amsterdam in the evening, the trees outside the station
Extra large and extra many chips. They taste good, but I really can't eat them...
A mother paints her son to celebrate the festival in the street
In Europe, street artists can often be seen, playing and singing skillfully and singing beautifully
The handsome guy comes face to face, take a candid picture!
The enthusiastic Dutchman, seeing me shooting, danced with me. Unfortunately... I didn't catch the right time
Back to Amsterdam
Take a look at Amsterdam on Queen's day and all kinds of cool Dutch people
Black guys, your faces are so dark.. I did my best..
In fact, I really want to ask, brother, is it not difficult to breathe? Can you see the way?
Cool black uncle
It's good to have KFC once in a while
On this day, the whole city became a huge dump
palace
Dam Square
I can't help touching the dog
war memorial
People were in high spirits. A handsome man on the cruise ship yelled "I love you" in Chinese. His pronunciation was extremely nonstandard. I didn't recognize him until he called three times. He waved to him in exchange for excited cries and laughter.
When sorting out the photos, I found that in the lower right corner, er, I thought too much..
These two black people want to take pictures with me for money. Actually, I took pictures of the two big brothers next to me, OK.. So I praised the two of them handsome and ran away..
Waag
Next to the kissing couple is a handsome couple
Leisurely Dutchman, sofa on the street
All kinds of pictures of me and sharp sister.. Cough, we also wore an orange dress for Queen's day~
Live in:
Joops Hotel (Harlem)
5 days 4 nights 399 euro / 2 people
Located near Harlem church, about 15 minutes' walk from the railway station, the location is very good. The room was big and clean. It was the best hotel on the trip.
There is no front desk in this hotel. You need to go to the main hotel to check in and check out, and walk for 2 minutes.
Holland: a free and passionate orange country may 1, 2013 lisser and kukenhof: Harlem to kukenhof, take bus No.50 at reisinformatie station and get off at Lisse station
Bus 8 euro / person one way price note: the reisinformatie stop does not show the station behind the city. Similarly, there is no station in Harlem on the Lisse stop, so you need to pay attention to the road signs and nearby buildings to avoid getting off the wrong station.
We took a bus from Harlem, got off at lisser and walked to kukenhof. It's about 2km away from kukenhoff and about 30 minutes' walk. Along the way, I saw many idyllic houses with unique door and window decoration. The river is shady and the scenery is beautiful.
Lisse, a small town in the Western Dutch province of South Holland
Kukenhoff is right ahead
Kukenhof Park
Enter directly with hollandpass tulip ticket. Kukenhoff is not big. It takes about half a day. There was a huge crowd in the park. I didn't have much interest in flowers, so I took a few photos at random to prove that I was here.
Cycling in Huatian
You can rent a bicycle at the gate of kukenhof Park, 10 euro per person. The careless car rental uncle didn't come to us for ten euro. I felt a little wrong and went to pick up the car in a daze. Ask the little brother who assigned the car, is it 20? He said yes. I said, I gave 50, how can I find 20? He's stunned, isn't he? Come with me. Without saying a word, he took us to get 10 yuan. What a real brother! Huatian can ride a and B routes. It's just that we lost our map on the way, so we just rode randomly and didn't know which route we took. The breeze all the way, how is a pleasant.
Sharp sister only let hair see her face... Backlight satisfied with it!
Return to Harlem again in the evening. Unlike yesterday's Queen's day, there are few people in the streets of Harlem on weekdays. This quiet is what the town itself looks like. It's really delightful.
Back at the hotel, we saw the waiter in the opposite restaurant taking the meat in the oven at the door. We were so greedy that we decided to go in and have a big meal. The menu was all Dutch, and we couldn't understand it. We had the cheek to tell the waiter that we saw the barbecue just now, that's it. So we had the best meat of the trip!! Although it's a piece of streaky pork, it's fat but not greasy. It tastes delicious and smooth. Now think of it, I really regret not to eat more!
The price of dinner is 37 euro
This is the third day in the morning to eat dessert, looks delicious, in fact, sweet people do not want to eat sweets in the next life..
Holland in Europe: walking out of the noise 2013 / 05 / 02 - Van Gogh Museum in Amsterdam, Harlem————————————————————————————————
After experiencing the crazy enthusiasm of Queen's day, let's take a look at those outside the noise. PS, this day only half of the time to visit outside. The reason is that a pair of broken pants triggered shopping. My jeans were worn out, and they were still in the butt position. At first, I wanted to buy a needle and thread, but I couldn't find them everywhere, so I had to buy a pair of pants. Then, I went shopping... Orz Van Gogh Museum
You can take a tram from the central railway station. (buy a GVB 24 hours, the ticket is paper, we thought it would be OK to take it, but no one checked it. It seems that it needs brushing... Since the first swipe of the card, the museum is still under renovation. This time, it is a rare opportunity to get close to the master's works( Tulip tickets of Holland pass can be exchanged)
A super hot dog outside the Museum
Look at the crowd. Amsterdam is always crowded.
Back to Harlem
Lipton delivered in front of the railway station
The handsome policeman said hello to me
At the carnival near the square, people screamed in mid air
Holland in Europe: walking out of the noise————————————————————————————————
Harlem every day~
In the morning, I was going to the teylers Museum in Harlem, but unfortunately, the museum was closed for renovation.
Meet a meow star by chance
Meow has been to my lens, although shot paste, but still like this one
Teylers Museum, closed
On the way to the railway station, you can often see the dog lying lazily in the sun. I don't want to lift my head when I see people passing by.
The actor who plays accordion in front of the railway station has a bright smile
Harlem goes to Malcolm and takes the train to Amsterdam Central railway station. When he goes to the seaside side of the railway station, he will see a small yellow room upstairs. He can exchange the blue ticket of Holland pass for EBS ticket and take all EBS buses within 24 hours.
Take EBS 311 to Malcolm.
Marken
Not many pictures can be found on the Internet, but it is a place worth visiting. It is more peaceful and idyllic than the crowded Florentine.
The bus doesn't stop at every stop. If you want to get off, you need to press stop to remind the driver to stop
Just out of the bus, in front of us are patches of green grass and trees, and groups of sheep. If you go further, you can see the swans with their feathers combed by the river and the ducks swimming on the river from time to time. When someone comes near them, they don't dodge and feel comfortable. Malcolm still retains the traditional green house in Holland. It is said that women also wear traditional clothes. Except for a few scattered tourists, we hardly saw any villagers in the village.
The church in the village
Small one's pizza is as big as Pizza Hut's! The European appetite is beyond our expectation....
It's very cheap. It's 6.5 euro a piece. It's too much for them
After eating the pizza, we went to the dock and planned to take a boat to flandan on the other side. When we got to the dock, we found that there were more people. Most of them are tourists, drinking and chatting at open-air tables along the coast. Red roof green house, blue sea and blue sky, is really a good place for people to stop.
Buy a one-way ticket to flandan at Malcolm wharf, 6.5 euro / person, Holland pass can be reduced by 20%. Then you can take EBS back to Amsterdam in Florentine.
Vorendam
There are more tourists here than Malcolm. As soon as we got off the boat, we suddenly had the feeling of going to the commercial street of Xitang ancient town. Street specialty store opened one after another, we can not avoid the vulgar on a stroll.
Dutch cheese is really a heavy flavor. The biscuits I brought back, except for the leaders, all felt that they tasted strange and couldn't eat the second one...
In the evening, I drove back to Amsterdam. I planned to visit Annie's former residence again. When I arrived, I found that there were a lot of people and a growing dragon, so I had to give up.
Shoot your sister, meow!
After eating western food for several days, sister sharp and I couldn't stand it any more. We met a Japanese noodle shop and decided to enter the shop
It seems to be 7.5 euro
Does anyone want to ask, Windmill Village? What about the children's dam?
Well, we didn't go to chengfengche village, but we also went to see Fengche. You don't have to run anywhere. Harlem has it. Coming out of the train station in the evening, we went around to the other side of the town to see Adrian's windmill. Windmills are beautiful, but the scenery on the road is always more surprising~
So far, we have finished our trip to Holland, and the next day we will go to Belgium. Let's forget the hometown of chocolate~
Belgium in Europe - stay in the hometown of chocolate 2013 / 05 / 04 - Brussels - train from Amsterdam to MIDI in Brussels in 2 hours. Previously, I saw in some travel notes that Brussels is noisy and modern, and its biggest feature is that it has no characteristics. So in our plan, this is just a transfer station. After walking out of the station, you can see tall buildings and modern streets. I can't help but feel the scenery here. But what we saw and heard in the next few days proved that this idea was wrong.
Some people wrote that the streets of Brussels are intricate, maps are useless, and walking is intuitive. It's true that the streets of Brussels are like a spider's web. Looking for hotels on the map, we soon lost our way. Fortunately, I met the police. After some inquiry, I finally found the direction.
It takes about 20 minutes to walk from MIDI station to the grand square. When you come out and see the viaduct, walk along the direction of the viaduct. You will see sculptures at the next two intersections, and there is a grand place sign at the second intersection. It's not far. Ask someone or turn right after a few more intersections.
Route: from MIDI to our hotel, it's similar to the grand square
Grand place is the center of Brussels, surrounded by a number of Baroque, Gothic, Renaissance style buildings, extraordinary style. There are flower markets, handicrafts exhibitions and all kinds of street artists in the square. They sell paintings, play songs and perform art. In recent days, I have seen an old man sitting on a stool with no expression on his face. Some people lie down on the ground, not knowing whether they are enjoying the scenery or sleeping. Chaplin's mime performance is nothing. A group of young cos Spartacus warriors went to the center of the square and yelled slogans, which surprised the onlookers.
The next morning, the sky was clear
The Godiva shop beside the square is cheaper than the one at the corner, but it's not as cheap as the duty-free shop at Frankfurt Airport.. Orz, it's too late..
Years of passion burning
Urinating child Yu Lian
It's near the grand square
Although I have heard that the statue of Yulian is very small before, I really realized how small it is when I saw it with my own eyes. If it is not surrounded by tourists, who can notice
The scenery in the window
The windows in Brussels are also a special sight. The dazzling array of sweets, handmade lace and animation models dazzle people. Especially exquisite and lovely chocolate, never buy it, not to mention the handsome assistant! We lingered in the shops and wanted to buy chocolate for the rest of our lives.
PS, if the box is big enough, you can buy box chocolates like Jillian. For those who don't have enough boxes and are afraid of being heavy, such as me, Godiva, Leonidas and cachet's chocolate blocks are good choices. There are also chic handmade chocolates. One in Bruges is cheaper than Brussels, so it's recommended to buy them~
So delicious waffles, how can sweet food control resist!
streetscape
The police are so handsome, men and women, young and old
Graffiti
Graffiti can be seen everywhere in Brussels, with bright colors, different themes and various styles. Imaginative Belgians have integrated art into every corner of the city.
Hotel Mozart 4 days 3 nights 270 euro / 2 people with breakfast this is a hotel full of exotic customs, only a few minutes away from the big square. Compared with Haram's, elevators, rooms, beds and bathrooms are very small (sharp sister said that this is not designed for the huge European body). One morning, we met a foreign uncle downstairs. He came up to talk enthusiastically and asked me where I came from, so we had a chat. It turns out that this uncle, Ben, is the owner of a hotel. He once lived in Shanghai for a while and can speak one or two simple Chinese sentences, such as "have you eaten yet?". Of course, pronunciation is not standard, thanks to my good ear, quick response, strong understanding ability!! At that time, I thought that this was not the general impression of China among international friends. I couldn't help laughing. When I took a picture with my uncle, he kept saying "have you eaten?" I couldn't stop laughing. It happened that someone interviewed him and filmed him. Let's pose again after the group photo... I'm not sure that sister sharp and I went to the local TV station...
Belgium in Europe - stay in the hometown of chocolate may 5, 2013 - Bruges————————————————————————————————
Sunday marketing
Near MIDI station, it seems that there is a fair only on Sunday. Vegetables and fruits, clothing and cloth, flowers and potted plants, cosmetics and electronic products, a lively and prosperous life scene.
Bruges
Bruges, a small medieval city, takes about an hour by train from MIDI station in Brussels.
Eurorail direct ticket on board, midway there will be a steward check.
Out of the station, we follow the bustling tourists to Bruges central scenic area. Suddenly found a shady path, quite some of the flavor of winding path. Through the path, a river across the green space, both sides of the shade, there are three or two picnickers sitting on the ground. This scene is very different from Brussels, but it reminds people of Harlem and Malcolm in Holland. It's a quiet place in the middle of trouble, which makes people relax. Really want to do nothing, lazy nap.
After a long time in the green space, we went to the depths of Bruges. At this time, the map lost its function again, so we walked towards the visible top of the church. We are used to getting lost, and we enjoy it. You can always find the scenery outside the scenic spots.
Put on the sharp elder sister of the king's overbearing spirit secretly
Finally, I saw the castle in Europe, as the fairy tale said, with a spire, tower, wall climbing tiger and beautiful lines. Different from the grand square in Brussels, the buildings here are a little more exquisite and delicate, filled with the atmosphere of ancient times.
There are many ancient books and music scores in this Castle Museum. It's not allowed to take photos, but I still.. I couldn't help taking two pictures..
An old lady making handmade lace
Ancient Fair
We ran into the Bruges marathon. From the elderly with white hair to the young, Belgians are walking with sweat.
city hall
Old city gate
I got there after I lost my way, hehe
Ahead are windmills
Love Lake Park
It's said to be the most beautiful place in Bruges
Belgium in Europe - linger in the hometown of chocolate 2013 / 05 / 06 - Ghent - on the train to Ghent, opposite us sat an Asian lady with good temperament, about 50 years old. Sister sharp reminded her that the zipper of the bag had been opened, and she said thanks in slightly awkward Chinese, so we began to talk. This lady lives in Chongqing and has been in Europe for more than 30 years. I started to live in Luxembourg. I moved to Brussels a few years ago. My residence is near the grand square, very close to our hotel. During the conversation, she said that she had worked as an interpreter in Luxembourg for the Chinese who had been arrested for illegal immigration. The Chinese said that the prison facilities and welfare were like five-star hotels. If he had not been sentenced for illegal immigration, he would really like to live in them. Hearing this, we were speechless for a moment. Most of the stowaways live in poverty in China, and they leave their hometown to make a living. This kind of exclamation makes people feel sad and helpless. I have to say, this is a very ironic thing———————————————————————————————— Ghent is a small town with strong personal culture. We began to be attracted by a green forest landscape, but of course it was actually a fork in the road. The police at the station said he was not a local and didn't know the specific location, indicating a general direction. A handsome man walking his dog passed by and asked the way back.
Earl's Castle
Tickets 18 euro, we did not willing to spend money up, around the outside
bell tower
Tickets 5 Euro
Up to the top you can see the whole Ghent. The streets are as small as models, and the tram tracks are like silver silk threads running through the city. The stairs are narrow and rotary. The corridor is dim, with only the yellow wall lamp. It's really scary to walk.
Don't go up for acrophobia. Don't go down stairs when you go up. It's narrow and dark. It's so nervous and woody!!
PS, the hot dog in front of Ghent station is terrible! I was reciting "in order to survive" while trying to swallow it...
This is the end of the trip to Belgium, followed by the last stop of the journey - Germany
Germany in Europe: clouds and sunshine 2013 / 05 / 07 - Frankfurt————————————————————————————————
As the train passed Cologne, the sky darkened and began to rain. Rain continued to pass on the window, as the train accelerated, gradually connected into a straight line. When we arrived in Frankfurt, the rain stopped, but the dark clouds still remained.
Sadly, we got off at the wrong station. Who told Frankfurt railway station to separate Mian from main...
Frankfurt Main Hbf
Frankfurt main railway station is much bigger than Amsterdam Central railway station, which is more modern and industrialized
Punctual German, almost every station has a clock
Automatic Ticket Machine
A kind young man leading the way for the blind old man
Frankfurt
Pedestrians are indifferent, traffic is fast, industrial equipment is everywhere, and there are many tall buildings. A country full of clouds is like a German who was in a hurry and didn't laugh. This is our first impression of Frankfurt( But it turns out that first impressions are usually inaccurate
This is Frankfurt on the morning of the second day, without yesterday's haze
Rome square
Rome square is the center of the old city of Frankfurt. Some people say that Frankfurt is a perfect combination of classical and modern. This is true. From HbF with steel and cement cables to Rome square, people suddenly feel that time is intertwined.
Go to Rome square
Classical and modern
There are a lot of Chinese food around Rome square. We tried a Chinese fast food called "Mei food". The taste is just so so. Then when sister sharp and I argued about which way to go, a foreign youth came over and asked in English if we needed help. Wary of strangers, I looked at him and didn't answer. He pauses and says in stiff Chinese, "can I help you?". Hearing that the familiar native language comes from the mouth of a foreign boy, I have to say that it is both cordial and full of joy. I couldn't help laughing and asked him how to get to the railway station. This Frankfurt young man named Adrian has just taught himself Chinese for several months. He took the initiative to petition to help us lead the way, half Chinese and half English to communicate with us all the way. Remind us to pay attention to the Turkish women with children, who are professional thieves and help introduce the scenic spots passing by. We taught him a few simple Chinese sentences to help him correct his pronunciation. I have to say that this has changed my impression of indifference to Germany. I can't help thinking that, like the cloudy and sunny sky, the German people are serious on the surface and sultry on the inside( It's a compliment, right!)
Across Rome square is the main river
Main
The weather in Germany is changeable, but whether it's sunny or cloudy, the clouds are always thick, which makes the scenery more vivid. The Meiyin River in the sun shines like an oil painting.
The scenery on both sides of the Meiyin river is quiet. The Germans sit or lie in groups of three or two, usually holding a glass of beer in their hands. This leisurely scene is another example of Frankfurt. Under the bridge are live and small shops, hot dogs and beers, ice cream and chocolate, and even fairy tale carousels. Here, we have delicious German sausages, which are different from those before. German sausages have been pickled, so they have rich flavor, different types and slightly different taste.
Live in:
Pension Alpha
Four days, three nights, 250 euro / 2 people including breakfast in Holland and Belgium check in only need to show the pre order and passport. Here, the front desk uncle keeps a straight face and keeps a copy of the passport after checking the passport, visa and reservation form in detail. We thought, is it because we are afraid that we will damage the hotel's things, so as to keep the card?
Indeed, he was a meticulous German.
It's more spacious and tidy than the hotel in Belgium, but it's not as good as the one in Harlem. WiFi account password is randomly generated, 24 hours or 48 hours expired, expired to the front desk. When you go out, you also need to give the key to the front desk and return it to you when you come back....
Just arrived that afternoon, looked out from the window, the mountain rain was coming
Breakfast is richer than Belgium, offering a variety of choices, including cereals, milk, coffee, juice, bread, sausage, lunch bacon and cookies
Germany in Europe - clouds and sunshine crisscross may / August 2013 - Heidelberg - Heidelberg is only an hour's train ride from Frankfurt. Like Ghent in Belgium, it is a university town with more young people on the street. Compared with Frankfurt, it is more lively and energetic.
You can take a bus to the castle or walk. It's not very far. It takes about 20 or 30 minutes. When you get out of the station, go straight across the street. Go to the business district and turn left. When you see the bridge, turn right.
This sleeping pig, if I remember correctly, is in a sausage shop...
Germany is famous for its beer
We got lost again without accident. We wanted to walk from the University square to the castle, and then we went to the other side of the NECA River, the philosopher's path. It's green again. You can see the castle on the hillside here.
Neka River
Old bridge
heidelberg schloss
Tickets 6 Euro
The castle was full of war, and the main part of the castle was broken. The magnificence of that day can be seen. Climb the castle to have a panoramic view of Heidelberg and the river nekaa. Maybe I saw the pastoral scenery of Holland a few days ago. The scenery of Heidelberg no longer surprised us.
The old woman with a retro look is standing under the tree without expression. It seems that there is no intention to attract tourists to take photos, which is quite puzzling.
Germany: clouds and sunshine in Europe may 09, 2013 Cologne————————————————————————————————
Cologne is an hour by train.
On the way to Cologne, the scenery is very beautiful. Thick clouds are within reach, covering the villages in the distance. We headed all the way to the clouds. In the middle of the journey, the clear sky crisscrossed ahead again, which was not seen in Holland and Belgium. The latter's sunny days are usually blue and cloudless. In Germany, however, clouds and clear skies crisscross. At the last moment, it seemed that it was going to rain heavily. Before the umbrella came, the sun appeared again from the clouds.
You can always see that the bridges in Germany are full of locks. Although Frankfurt and Heidelberg have locks, they are not as spectacular as here. Literature and art are like bronze locks, ordinary ones are like door locks, 2b ones are like bicycle chain locks...
A group of young people playing under the bridge
Cologne Cathedral
You can see Cologne Cathedral from the railway station. Compared with the magnificent buildings in Brussels, the Gothic Cologne Cathedral is more imposing. Standing in front of the church, I feel oppressed.
There are three or two sculptors in the square outside the cathedral. One of them warmly invited me to take a group photo. I thought that people would like to see me, but in fact they would charge me 2 Euro once. Fortunately, I can afford to.....
After only half a day's tour in Cologne, we went back to Frankfurt to revisit the main river and Rome square in the evening.
In Rome square to eat the famous German sausage and potatoes, can only say.. Hot dog's sausage is more to my taste...
This dinner satisfied my stomach, but not my mouth, so we went to eat a hot dog under the main river bridge, and finished the trip perfectly. The time of 12 days is still too short, there are still many places to go, and I haven't had enough to eat. But I know, there are shortcomings will make memories more precious and beautiful. Next time, where are you going? Taiwan or Japan? Or go to Xi'an again and savor the rougamo that I never forget? Well, it's a question worth thinking about....
Tips:
·Hollandpass is not as common as it used to be. Windmill tickets are not accepted in many places (such as GVB and Sex Museum). EBS can be exchanged for a blue ticket.
·Queen's Day (King's day) is a special day. Luggage is not accepted at the station.
·It doesn't matter if you don't understand the order. For those who don't like meat, please remember the keywords, such as meat, pork and beef~~~
·Be "cheeky" and ask if you can't find the way. Because most of the time, maps are of little use. Asking for directions is always the best solution.
·There is another way not to find the road, that is to go towards the highest building (usually the top of the church)· The ice cream is delicious. Don't miss it.
·Sunscreen is necessary, or you'll get sunburned like me...
·European food has a lot of portions. It is suggested that you order one first, taste it, see how much, and then decide whether to order a second one·
The traffic in Holland is very civilized. Generally, cars let people pass. Even if it's a red light, people will stop to let pedestrians pass first.
·Take the train, go into the restaurant, the Dutchman will usually leave the door for the people behind.
·Europe is used to drinking cold water, tap water can be directly drunk. So the hotel usually doesn't offer a water glass. A small electric cup is essential, Taobao can buy.