Macau
Let's go to Macau food festival to find food!
Published on December 6, 2014 16:58
As far as diet is concerned, I think most Chinese men belong to "conservatives". For them, serious Chinese three meals a day is King (especially staple food); However, women are not. Many women are born to be eclectic gourmets with a mind of "embracing all rivers". For them, in addition to the extensive and profound Chinese cuisine, all the cuisines in the world, such as French cuisine, Italian cuisine, Thai cuisine, Vietnamese cuisine, Japanese cuisine, Korean cuisine, are the objects of their fanatical pursuit, without exception.
Based on the above reasons, I decided to "abandon" my husband who is very "rigid" in food and drink, and go with a little partner who always calls himself "eating goods" during the foraging trip of Macao food festival. It's because when we talk about Macao food festival, our two eyes are shining, two eating goods are in harmony!
Our trip to Macao had no other purpose, just to find food, so we decided to just hang out on Macao island. Xiwan Lake Plaza, where the food festival is located, is located at the southernmost tip of the Macao Peninsula. Originally, if you take a bus from the gate to the food festival in the morning after passing the customs, and then stroll all the way back to the north after having enough to eat and drink, it would be the best arrangement to buy some hand letters to take home in the hand letter street of the bus, but the food festival will not open until 5 p.m. every day (3 p.m. on weekends), We can only do the opposite. After passing the customs in the morning, we first play around the bus to find the local food and snacks, and then go to the food festival to taste the food from all over the world! Think about it and you're already excited!
This time, I'll stay in Xingcheng hotel in Zhuhai for two nights (512 yuan), just because it's convenient. After work on Friday, take the subway to Guangzhou south station, take the bullet train to Zhuhai (the ticket price is 90 yuan / person), arrive at the railway station next to Zhuhai Gongbei Customs in one hour, take the No.9 or No.99 bus to the hotel on lovers' road, and have no words for a night.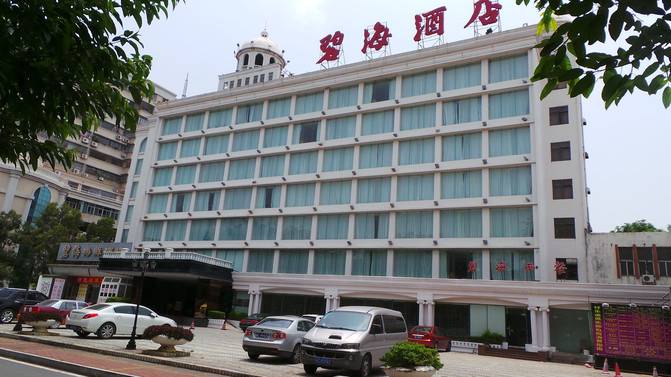 In the early morning of Saturday, I still took No.9 bus from the hotel to Gongbei Customs. I don't know if it was because of the food festival that there were many more people passing through the customs this time, which took a little time. Take No.3 bus (or No.1 bus, or No.17 ring bus) from the underground bus terminus, which is closer to the bus No.3. Macao's bus is 3.2 Australian dollars per person, the equivalent of Hong Kong dollars can also be used), get off at the seaside new street station, and walk to the vicinity of the grand Sanba memorial archway. So far, our foraging journey officially began.
Find a place to have breakfast first. I found a small tea restaurant in the alley beside the station.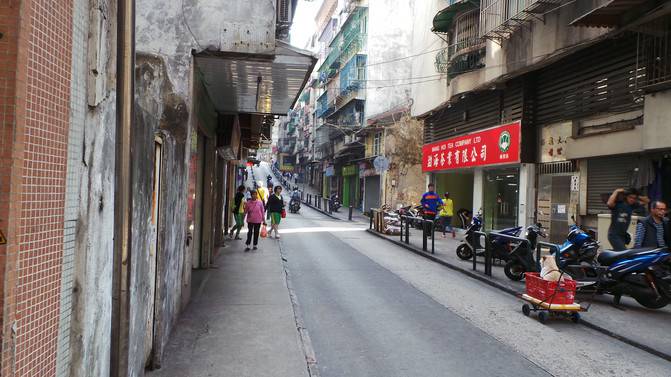 My little friend ordered a cheese and salted beef sandwich + coffee set meal, and I ordered a cheese and ham sandwich + milk tea set meal (22 Australian dollars / share, the consumption in Macao is Australian dollars or Hong Kong dollars, and the payment in RMB is 1:1, which is not cost-effective). The taste is OK, just a little taste, and I have to keep my stomach for something else.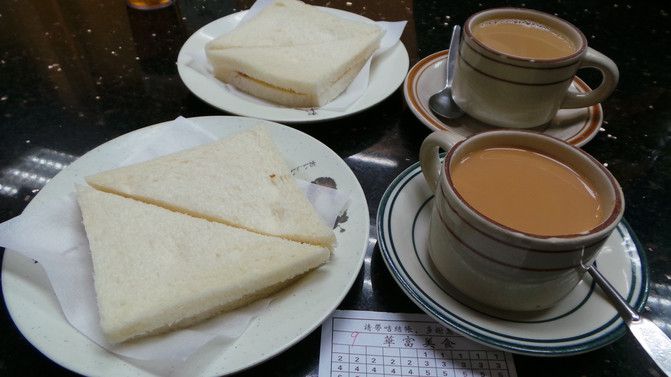 Then go to the bus. There are a lot of snacks in the area in front of the meeting hall and the bus. Many of the snacks recommended by netizens are in this area. Even if you don't know the way, you can run into a few. My little food partner is very familiar with this area. I just follow her with my eyes closed. She wants to clean up the food here.
I like the guide signs in Macao.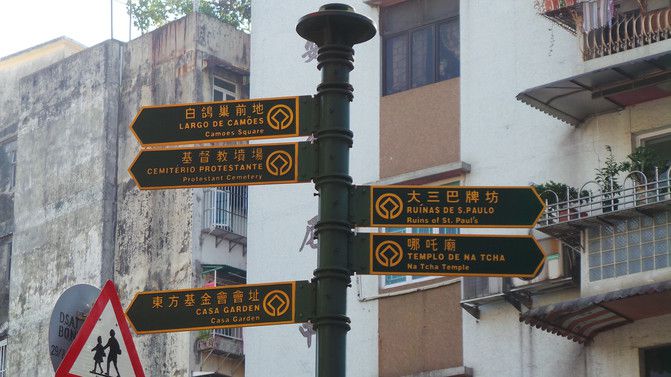 Passing by the memorial archway of Dasanba ~ ~ ~ there are as many people as ever.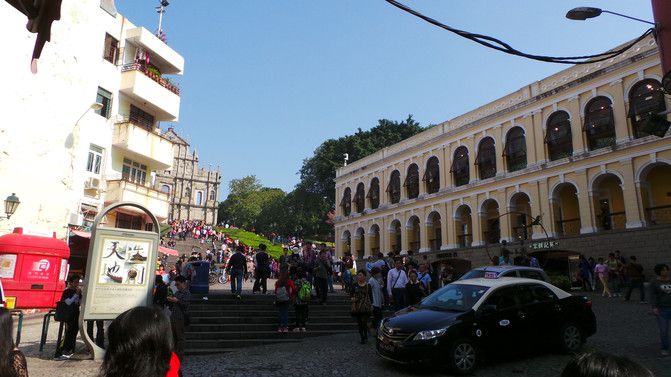 Juji hand letter shop is still full of people, do not want to carry things shopping, decided to come back. Along the way, all kinds of hand letter shops provide samples. Someone once joked that you can go home full after a walk from the street to the end of the street.
After getting off from the bus, I followed my little friend to turn left and right into a small alley. The most striking food in the alley was Hengyou's fish eggs. Looking around, in addition to the people who were queuing up to buy fish eggs, they were eating fish eggs, and we were watching people eat fish eggs. How spectacular!
Secretly close up the camera, the furthest three female eaters photographed, everyone's mouth bulging, ha ha! Macao's beef, fish and eggs are very domineering. Unlike Guangzhou, they are all small bowls. Here they are all ocean bowls filled with all kinds of beef, fish and eggs, vegetable cheese balls and so on. Sometimes they just complain that their stomachs are too small.
Passing by the "Lu family compound" listed as a world heritage site by the Macao government, I went in to have a look. It's a very small door. It's still on the "fish egg Street" where people come and go. It's estimated that many people don't know that this is a tourist attraction, so there's basically no one inside. It's free to visit.
It's very rich!
Macao is full of road surfaces decorated with patterns. It's like feel.
"Jiaojiao town", hidden in a small alley, is my favorite snack for my little friends. I found that they didn't open until 12 o'clock. It doesn't matter. Let's have something else first.
The second must eat food is "crown Pavilion". This time we went to a new branch in Ginza (address: room J, first floor, Ginza Plaza, 1-15 long street, white horse), which is bigger than the old one and has a better environment.
See the Esprit sign. When we first saw the sign of his house at the intersection, we walked along the road on the left side of it until we reached the end. After we didn't find it, we went back here. The slopes in Macao are very steep. It's quite technical to drive here.
What a beautiful yellow car! A recent photo! Macao people seem to like this kind of "chubby" car.
To get into the building on his right, go along the toll gate of the parking lot and turn around to see it. Just go in from here. If you don't pay attention, it's easy to miss it. The address of that old shop is: basement a, 308-310 shuikengwei street, peninsula. You may as well eat what you meet.
When we went there, we didn't go for a meal. There were almost no guests in such a big hotel. Maybe it was because of the new one. All the travel strategies were still directed to the old one. My little friend said that this one hadn't been opened a few months ago.
We ordered a bowl of shrimp wonton bamboo noodles to share, which cost 33 Australian dollars. I hate to eat scallions. Sure enough, noodles don't sell well without scallions. Bamboo noodle is a traditional method of bamboo pressing. It's full and solid with fresh shrimp meat. Wonton tastes good. My carnivore friends say that wonton is full of meat. One bite at a time is too satisfying. It's a pity that both of them are allergic and don't dare to eat seafood. The most famous products of his family, Zhusheng shrimp noodles and Huagao crab porridge, can only be missed.
His family has also won the "Asia must eat restaurant Award" shortlisted notice, oh, I do not know whether the final award, it is estimated that there is no, otherwise it will be posted to show off.
It's past 12 o'clock when I come out of the crown Pavilion. I immediately rush to Jiaojiao town and cross the road. It's very convenient (address: g / F, No.5A, ren'anli, banzhangtang, Macao).
Dumpling town focuses on all kinds of dumplings and wonton, including steamed, boiled, fried, vegetarian, meat and vegetable combination, salty, sour, spicy, all kinds of choices.
Ordered a green spinach dumpling 25 Australian dollars, a small dumpling 25 Australian dollars, a cup of soymilk 9 Australian dollars, a total of 59 Australian dollars, green spinach dumpling light very fragrant vegetable flavor, with a little toughness of the skin added with spinach juice, just can resolve the greasy just a few shrimp dumplings, do not dip in the seasoning Oh, otherwise you will not eat the dumpling itself fragrance. In addition, his family also set a minimum consumption of 20 Australian dollars per capita.
It costs 9 Australian dollars for such a small cup of soybean milk. It's only 2 or 3 yuan in Guangzhou, but this stainless steel cup is quite unique. Except for bamboo steamer, all the tableware in his family are made of stainless steel, which is rare in restaurants.
The next stop is the "lemon car dew" that my friends have been thinking about. It is known as the sales champion of Macao food festival for eight consecutive years (address: underground, No. 11, lobby lane, Xinma Road).
After counting, his ice cream has 30 flavors. There are also some rare rainbow ice-cream and tofu ice-cream outside, and tofu ice-cream has to compete with character, not every day. My little friend said that I didn't eat it last time, which is a pity.
I don't know which is delicious? It doesn't matter. The store is very considerate and allows you to try it. You can try it and buy it if you like.
I ordered a large double color ice cream cup with tofu and raspberry cheese (35 Australian dollars). My little friend finally ate the tofu ice-cream, which is not too sweet, but the light tofu taste is very unique; I like raspberry cheese flavor, strong cheese flavor with slightly sour raspberry flavor, a mouth after the teeth.
Patronize to eat ice-cream, did not pay attention to look at the picture on the wall, the small partner took this picture of the wall.
Macau mercy hall. When the weather is good, looking down this lane, a green corridor under the blue sky and white clouds, my mood is suddenly clear.
It was this bishop janilau who founded the mercy Church of Macao. He was also the first bishop of Macao.
The famous HUANG Zhiji, head surging in front of the door, it is estimated that it is difficult to squeeze in, we gave up.
Many people know that L'OCCITANE is a skin care brand, but few people know her family's L'OCCITANE cafe. My little friend told me that this coffee shop is newly opened, but because it looks very expensive, she didn't dare to go up when she came last time. She just stood at the door and rubbed WiFi. It is said that the afternoon tea here is very high quality. All the coffee and French bags of her family are airlifted from France. But the coffee shop is not the goal of our trip. Let it go this time.
Last time I passed the big red apple, there were few people in the whole square, but this time it was so crowded.
Let's borrow the photos I took last time to make a comparison. We can see that what I said is true.
Christmas is coming and the streets are already full of lights. The prelude to the holiday sale has also begun to play.
Macao is really a gourmet paradise. There are people looking for food everywhere.
I found this pan Weiji in a humble alley. There are no seats in this shop. There is no Hall Food (address: 41 Tianshen lane, Peninsula).
My little friend bought a caramel stewed egg and a chestnut puff (24 Australian dollars) from his family. They shared them. The stewed egg is covered with a thin layer of caramel. The stewed egg is smooth and fragrant, but the puff is really ordinary. My little friend said it's not as good as Guangzhou's.
In fact, we should eat her cheese cake. We didn't pay attention to it at that time, but now we find that we have missed her famous cheese cake. Wuwu ~ ~ my little friend interrupted and said: don't cry, don't cry, caramel stewed egg is also a sign.
Is his Caramel stewed egg very attractive!
We decided to take a stroll to the food festival after a big meal on the bus. One is that it's still early to see the scenery along the way. The other is that we really need to stop eating and make room for our poor stomach.
We have to praise the enthusiastic people of Macao. When we couldn't find the north, we went to the new eight hundred companion shopping mall to ask for directions. Security guard Abe went out of the door very enthusiastically and pointed out the direction for us. He also specially reminded us not to miss the Macao Special Administrative Region government that will pass by on our right. One more compliment for security Abe!
Passing through the government building of Macao Special Administrative Region, taking a picture across the road is also a visit.
The government building is hidden in the shade of high trees on the side of the road. The red walls and white windows seem to be more colorful than solemn. Maybe this just reflects the Macao government's affinity to the people.
If it wasn't for the national emblem and the high flying national flag above the roof, it would be the government building.
From a distance, a large green cylindrical object is standing in the middle of the sidewalk. What is it? Strange acridine, quickly go to have a look!
Come closer, or don't know what it is? Do you see what it is? It's a bit of a beginning.
Hehe, it turns out that it's a small staircase leading to the lower beach. It's so chic. It doesn't take up space. Anyway, I think it's much better than the cold iron railing staircase.
When you go to Xiwan lake, pass by Nanwan lake. From afar, we can see the tall tourist tower.
Attracted by the scenery along the coast of Nanwan lake, I can't stop taking photos.
The White Bridge in the distance should be Xiwan bridge (also known as taizai bridge) leading to taizai.
Finally, I see the gate of the food festival. Cheering!!!
This year's Macao Food Festival is the fourteenth, from November 7 to November 23, at the Xiwan Lake Square in front of Macao tourist tower. Macao people have a good appetite, but they can eat all kinds of food from all over the world for 17 days.
Macao food festival has a theme every year, and this year's theme is "creating a new flavor of food". The scale of the food festival is really large, and the content is very rich. Compared with it, those food festivals we have seen in the local area are weak and popular!
According to reports, the food festival is divided into five food streets: "Chinese restaurant Street", "European Food Street", "Asian Food Street", "flavor food street", "dessert Street" and a "guanxi village". But when we went in, we saw a lot of people and couldn't tell which food street was. We just looked and ate along the way.
There is no cash charge for all stalls of the food festival. You must use Australian dollars to buy vouchers at the ticket office. We immediately changed 300 Australian dollars after going out of Gongbei, just in case people don't accept Hong Kong dollars, we have to find places to change them.
We bought a 200 yuan voucher and thought that there were several ticket offices in the venue anyway, which was not enough to buy.
There is a long line of people buying tickets at this ticket office.
And the ticket office we came in from the North didn't have to line up. Luck, hehe.
The towering tourist tower of Macao. It's said that there are a lot of food and play on the tower. Let's talk about it next time.
The whole food festival is full of people, and it's just like "people mountain people sea"!
Most of the stalls are almost full of people. We can only take photos from a distance, and it's difficult to squeeze in to take pictures of objects.
Only the beer house seems to be relatively deserted. I don't know if it's because of winter.
After buying the ticket, my little friend went straight to Mai Huachen. He said that when he thought of the durian queen in his family, he would drool. A small bowl of 50 Australian dollars, with layers of wood bran ice cream, durian pulp and durian mousse, would melt in the mouth with a strong taste of durian. What my little friend ate, that's satisfaction.
It was almost robbed by us.
Eh, are there any potted plants in the food festival? A closer look, it turned out to be a potted cake, interesting!
Look at the squid in his family. I wonder if one person can eat the whole squid. It's like 50 Australian dollars.
Is his roast squid very attractive and mouth watering!
We bought a bowl and gave it to my delicious little friend. After three or two times, it dried up. I just had a few mouthfuls.
I bought a cup of snow pear and winter honey. It tastes ordinary. I think it's quenching my thirst. Oh, by the way, I bought a cup of yogurt before. I forgot to take pictures.
This beef tarts (10 Australian dollars) is my favorite food at the food festival. It seems to be very humble. One bite of the crisp tarts, soft and rotten beef and rich cheese are perfectly integrated in the mouth. I regret that I didn't buy one more. It's delicious, delicious, really delicious (I can't find a better adjective, haha)!
Imported ham, 60 yuan a share, thin 6 pieces, buy now cut directly eat.
Finally, I came to Kansai Japanese village under the bridge.
On the stage is the Japanese samurai in the performance, is really the Japanese Oh, said a lot of us can not understand anything.
My little friend has been drooling at the bearded uncle. It's aesthetic. Tut Tut, what can I say.
By now, we can't eat any more. No matter how much food we have, we can only watch it. The delicious little friends are much quieter now. They don't have the joy when they just enter the market. When they go to each stall, they can only smell the delicious food with their noses and then walk away in silence
Oh, my eyes are full of our favorite Japanese food. I beat my chest and feet... My little friend said I shouldn't have eaten so much just now. I regret that my intestines are green. Why is my stomach so small.
I didn't finish the 200 yuan voucher. I bought some hand mail to take the rest with me.
At present, I only hate that my stomach is too small and I can't eat it. With the heroic feelings of cleaning up the food festival, but after a few stalls of snacks, they were defeated in a hurry. After more than a month's preparation, the delicious food trip ended so hastily. It's so tragic and sad!
This is a letter that my little friend bought for her future father-in-law in Gongbei duty-free shop (this time I didn't have the chance to buy it in dashanba Juji). The next day, when we returned to Guangzhou, my husband drove to pick me up, while she took the bus from the south station to her boyfriend's house to show her filial piety.
Every time I go to Macao, I can always see different scenery. Walking in the streets of Macao, there are always different surprises. This time, I took another group of Street Photos. They are all places I like to hang out.
Macao has narrow roads and many ramps, which reminds me of the mountain city of Chongqing.
I'm tired of going up the hill and down the hill when I enter the city.
There are many motorcycles.
Beauty and graffiti.
There are also old houses like our old town.
I love you so much - Macao! When the sun goes West, we have to say goodbye to Macao!
In the afternoon, there seemed to be a lot of people waiting in line on both sides for more than half an hour. But my little friend said that this is normal. She often goes back and forth to Macao. She thinks that there are not too many people this time. She said that the most exaggerated one was that she happened to meet three major events, namely, Zhuhai Air Show, Macao grand motor racing and Macao food festival. At that time, not only the hall of customs clearance was full of people, but even the square outside the Beihai pass was full of people. The time of customs clearance was longer.
*~*~*~*~*~*~*~*~*~*~*~*~*~*~*~*~*~*~*~*~*~*~*~*~*~*~*~*~*~*~*~*~*~*~*~*~*~*~*~*~*~*~*~*~*
On Sunday, I slept in the hotel, then went out to continue foraging, ready to find a place for brunch. In the end, we chose the "Le Fu Hui", a small shop on the second floor next to the city hall near the hotel.
Do you think it's very emotional to go up the stairs like this?!
I like this environment.
Because it was still early, the shop was empty when we came in.
The wall decorations in the shop.
We ordered a salami cheese pizza, a Portuguese chicken rice, and a roast Pleurotus eryngii. While waiting for our food, the smell came from the kitchen. The little sister in the shop said with a smile, this is the pizza you ordered. For the thin base of the pizza, it costs 6 yuan and a portion of cheese. The pizza in his house is very delicious. Unexpectedly, it's delicious. We two cheese controllers praise it while eating.
My little friend loves the apricot abalone mushroom with meat taste. With my scorn and scorn, a large portion of it has basically entered her stomach.
In contrast, Portuguese chicken rice is not good enough.
My little friend ordered herself a glass of ice sugar aloe and a pot of black sugar ginger tea for us to share. It cost 101 yuan in total. This time it's RMB, ha ha.
Originally, through mobile phone query, I found the Rama downstairs, and wanted to eat her special Western food set meal. The original price was 404 yuan, and the current price was 188 yuan. But her house didn't open until 11:30. We got the train at 2:00 p.m., so it's too late to give up.
Sunday is another sunny day. We are going back to Guangzhou by motor train.
Before getting on the bus, the two diners bought food and prepared to spend time on the bus.
I strongly recommend this kind of Porphyra, which is different from ordinary Porphyra. It's very thick, so it tastes very good. My little friend regretfully said that she thought the best thing to eat was the taste of dongyingong. It's sour and spicy. Unfortunately, the station didn't sell it.
At 3:10 p.m., the train arrived at Guangzhou south railway station. So far, our foraging trip to Macao is a perfect ending!